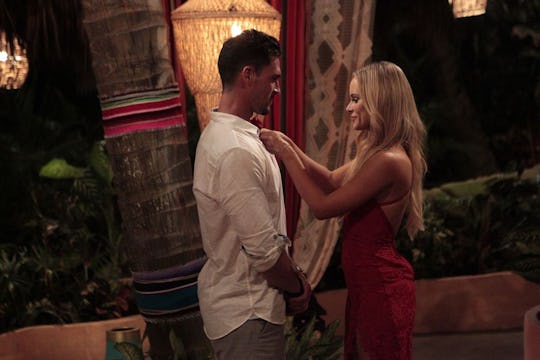 Rick Rowell/ABC
Are Josh & Amanda Living Together After 'Bachelor In Paradise'? They're Not Hiding
Josh Murray and Amanda Stanton have been face-suckingly solid since their first date on Bachelor in Paradise. When it comes to couples who will likely leave the show together, the two of them are pretty much a lock. They haven't done an expert job of keeping their continued relationship on the DL, either; after being spotted together a few times since filming wrapped, they just came out with the fact that they're still involved. But are Josh and Amanda living together after Bachelor in Paradise?
Indeed they are! Josh and Amanda revealed to Us Weekly that they had moved in together, with Josh relocating from Atlanta to California so he could settle in with Amanda and her two daughters. Despite the questions about Josh's motives on BiP, he seems to be genuine about his feelings for Amanda – at least as far as anyone can tell right now. Both he and Amanda seem excited for the future of their relationship and the path it's progressing on right now. According to Josh, Amanda is definitely someone he could see himself spending the rest of his life with. And Amanda isn't feeling any doubts despite Josh's ex-girlfriend drama and the warnings from other contestants on BiP.
But maybe let's give it nine months.
Though Josh and Amanda seem secure in their relationship, they've had a lot of opposition from all sides – and the editing on the show doesn't help their cause much. From the start, Josh was positioned as showing up and stealing Nick Viall's girl, though Amanda has said that things were far from serious between her and Nick. Then there was Evan Bass' attempt at an intervention utilizing details from Josh's ex Andi Dorfman's tell-all book, where she alleged that Josh was emotionally abusive. However, Amanda is dismissing that too. "I know Josh pretty well now myself, so it's not something I'm too worried about," she told Us Weekly about the book. "There are two sides to every story."
Amanda also mentioned wanting to get married again and have more children eventually, presumably with Josh. From their perspective, things are going amazingly well, with Amanda singing Josh's praises: "He's so dedicated and so loyal. He's sweet and thoughtful and caring – it's not just something he turns on for the cameras."
There very well could be another big TV wedding in the Bach Nation future, though considering the reception these two got it might not be as unreservedly joyful.