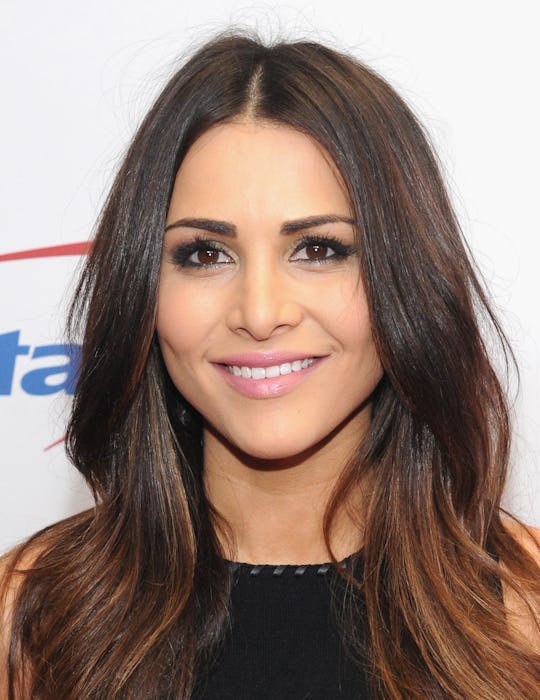 Craig Barritt/Getty Images Entertainment/Getty Images
What Is Andi Dorfman's Book About? The 'Bachelorette' Wrote A Juicy Tell-All
On Season 3 of Bachelor in Paradise so far, there has been some talk of Andi Dorfman, mostly because a lot of her cast-offs were sent to paradise for their second chance. But also because, after The Bachelorette, she wrote a tell-all book describing her experiences before, during, and after her time as a Bachelorette. So what is Andi Dorfman's book about? It's Not Okay: Turning Heartbreak Into Happily Never After is as juicy as they come, chronicling her time on Season 18 of The Bachelor and then as the Season 10 Bachelorette, as well as what came after the final rose, if you will.
For Andi, it wasn't exactly a happily ever after ending to her journey of love. Instead, once the cameras were gone and real life set in, it was about realizing how frighteningly incompatible she was with Bachelorette winner Josh Murray and how her time on the show may have been a waste, all things considered. (Although I'm sure she learned something about herself in the time she spent on both series.) Instead of finding love with the man she gave her final rose to, she found heartbreak and hard times almost as soon as they moved in together.
Andi Dorfman's book may say a lot and for some, too much, but she also had every right to dish on what goes on behind the scenes and after the shows are over.
So what is Andi Dorfman's book about and what does it say exactly? There's a reason why Josh had to deny, deny, deny any claims made in the book when Amanda Stanton asked him about it earlier this season on Bachelor in Paradise. And there's a reason why so many of the men from her season of The Bachelorette keep showing up this season. In terms of juiciness, her book tells it like it is and doesn't leave much out.
When She Was On The Bachelor
We first met Andi when she was on Season 18 of The Bachelor and made it to week 8 with Juan Pablo before going home on her own, as opposed to being eliminated from the competition. In her book, Andi's details of her fantasy suite date with Juan Pablo was probably the reason she dipped out early and went home on her own. OK, maybe not, but she writes that for mood music, Juan Pablo preferred the vocal stylings of either Ray Jay (does he even make new music anymore?) and R. Kelly. Oh, and that he also put on old videos of himself playing pro soccer to get them in the mood. Hot.
When She Was The Bachelorette
When Andi Dorfman got a second chance at finding love and was chosen as the new Bachelorette, you would think it'd mean the happy ending she'd hoped to find on The Bachelor. But in Andi's case, not even close. In fact, she revealed in her book that she and Josh, who would later win and propose to her, had several huge blowouts while filming, but none of them made it to the TV edits. After roughly five weeks into filming, Josh had considered himself to be the top contender with Andi, so when she invited him on a group date, he allegedly felt it was beneath him.
To make matters worse, the date entailed all of the guys taking lie detector tests. At the end, when Andi had the chance to read them or throw them away, she tossed them, but not before Josh was angry she had led them to believe she would read the results.
"What shocked me the most was his tone. He was aggressive and combative, playing the victim and practically asking, 'How dare you make me prove my honesty?' And though he was obviously careful in his words as the cameras rolled, no amount of restraint could hide the look in his eyes. It was a look of disgust and rage."
But even with the harsh way Josh had jumped on her during the group date, she continued to give him roses.
Her Engagement
By now, it's no huge spoiler that at the end of Season 10 of The Bachelorette, Andi and Josh end up together and that he proposes to her with one of those huge and expensive Neil Lane engagement ring. But what we as viewers don't know is the price tag of these rings — in this case, according to Andi, $80,000. Unfortunately, because Andi and Josh's relationship didn't work out, she had to return the ring to ABC. That's understandable though, and as Andi writes, "It was as if the ring had become a burdensome reminder of a love that was no longer there. The sentiment was gone, and so was its beauty."
Life After The Bachelorette
Andi writes in her book that one of the weirdest things about being engaged after The Bachelorette was getting to know her fiancé after the cameras stopped rolling and when they were finally alone. It was also strange, she wrote, to have to exchange phone numbers with your fiancé weeks after falling in love. But once they moved in together in Georgia, things changed significantly, according to Andi. She writes of what she calls an emotionally abusive relationship with former pro baseball player Josh Murray:
"What people didn't know was after two shows, I had become a twenty-seven-year-old woman who walked on eggshells in her own home. What they didn't know is I was trapped with someone who, in my opinion, often behaved like an emotional abuser. Yes, I said it, and I'm not taking it back. He was good-looking, with an electric smile and the ability to charm anyone, and his affection in public made people believe that he was a loving partner, but by the end of our relationship, it was just a mask covering the control he exerted in private.
He had an uncanny way of manipulating situations and conversations to make me feel like the worst person in the world. In his own words, I was not only selfish and unappreciative, but the "most miserable person he'd ever met." If we didn't get invited to a red-carpet event, he'd say it was 'because of my actions with Number Twenty-Five [Nick Viall].' If I talked to another man, I was a 'whore.' If I disagreed, I was 'argumentative.' If I defied him, I was a 'bitch.'"
Romper reached out to Josh for a comment regarding the allegations, in which he responded Andi's book was a "fictional novel."
"How is one supposed to comment on a fictional novel?," he told Romper. "It saddens me and is very unfortunate that Andi has chosen to characterize me in such a negative way. I respect the private relationship we had for those 8 months and I choose to go through life building others up, not tearing them down. I wish her nothing but the best in her new career and I pray she finds peace and happiness in her life."
After The Josh Murray Breakup
Despite the love that Josh and Andi shared prior to her book, she made the move to break off their engagement and relationship as a whole. She writes that after being together for eight months, she went to stay with Kelly Travis, who'd competed with her on The Bachelor and began putting into book form everything that had happened with Josh Murray. When she went back to their shared apartment for her things, she found them in the front hall, already packed. She gathered it all up and made the move to Manhattan, where she turned her journal entries and notes into It's Not Okay: Turning Heartbreak Into Happily Never After.
Her Reconciliation With Nick Viall
It's no secret that on "After The Final Rose", Nick called out Andi for sleeping with him on their fantasy suite date and asked to know why she'd done so if she hadn't planned on picking him in the end. But, on a trip to Chicago, she writes that she ran into him and later made it a point to gain some closure with the Season 10 runner-up. And, when it was all said and done, Dorfman was able to forgive him for talking about their fantasy suite date on TV:
"Sure, I was mad at him, but I never felt like he owed me anything. Did I feel betrayed by him? Absolutely. Did I think that his revelation caused my breakup? At times. But the truth is, while what he did had a damaging effect on my relationship, he wasn't to blame. If it wasn't his revelation, it would have been something else down the road."
Andi's book talks about the past few years of her life as a Bachelor contestant, then as the Bachelorette, and finally, as Josh's fiancé. So far on Bachelor in Paradise, Josh has only had to field questions a couple of times, but by now, it's what he's known for. Like it or not, the allegations surrounding Josh Murray are the juiciest parts of Andi's book.