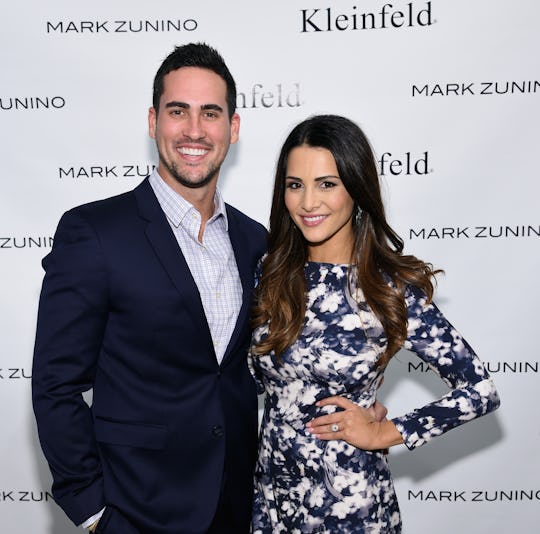 Jamie McCarthy/Getty Images Entertainment/Getty Images
Quotes From Andi Dorfman's Book May Cause More Problems On 'Bachelor In Paradise'
Josh Murray has definitely not been portrayed in a very good light thus far on Bachelor in Paradise. Of course we all know by now that Bachelor Nation edited footage can be a very tricky thing. See also: Chad "making Evan bleed" (but actually not at all) over on The Bachelorette AND Bachelor in Paradise. It's quickly become apparent that Josh drama is going to be the lynchpin of Paradise Season 3. But with Evan's recent mentioning of It's Not Okay, it seems that quotes about Josh from Andi Dorfman's book may cause problems in Paradise.
Josh hasn't been looking like anybody's Prince Charming since showing up in Mexico in Week 2, and yet Amanda Stanton is apparently head over heels for him. The show is very much presenting Amanda's initial suitor, Nick Viall, in a sympathetic light, while Josh is getting a barrage of really unseemly edits – way too much moaning (over kissing Amanda AND eating pizza, equally), extreme sweatiness, and eating cream cheese off of himself. It's not a good look. But things reached critical mass on the August 15 episode, when Evan – inexplicably seeking to woo Amanda away from Josh mid-makeout – decided to confront Josh about his former fiancee's book.
The book, It's Not Okay, was advertised as a tell-all account of Andi's time on Juan Pablo Galavis' season of The Bachelor and her own turn as The Bachelorette, as well as her very brief engagement to Josh in the aftermath. In it, she refers to Josh as "Number Twenty-Six" and Nick (her runner-up) as "Number Twenty-Five." Andi had a few extremely unpleasant things to say about Josh, in particular, in the book – which, for his part, he exclusively and adamantly refers to as a "fictional novel," when asked for a comment by Romper.
"How is one supposed to comment on a fictional novel? It saddens me and is very unfortunate that Andi has chosen to characterize me in such a negative way. I respect the private relationship we had for those 8 months and I choose to go through life building others up, not tearing them down. I wish her nothing but the best in her new career and I pray she finds peace and happiness in her life."
Allow everybody's fave Sarah Herron to summarize what Andi has to say about her past relationship with Josh.
Here are a few of the most shocking passages that might cause trouble for Josh in his attempts to find love in Paradise.
"In his own words, I was not only selfish and unappreciative, but the 'most miserable person he'd ever met.'
According to Andi's book, Josh thought she was selfish for wanting to return to a career as an attorney after they finished filming The Bachelorette. If this is true, being an controlling partner is absolutely a sign of an abusive relationship. Calling Andi a "miserable" person is also not something you say to someone you love or respect. He also allegedly accused her of being ungrateful when she didn't immediately thank him for getting her breakfast.
"If we didn't get invited to a red-carpet event, he'd say it was 'because of my actions with Number Twenty-Five.' If I talked to another man, I was a 'whore.' If I disagreed, I was 'argumentative.' If I defied him, I was a 'b*tch.'"
There's, um, a lot to unpack in this passage, to put it lightly. For one thing, if these quotes from Josh are accurate, this is straight up verbal abuse. These quotes level some seriously messed-up and offensive insults at Andi. There's also some horrific slut-shaming going on, in the allegation that Josh called Andi a "whore" if she so much as talked to a guy who wasn't him.
"That one sexual escapade would become a power play used by my fiancé to justify his mistrust in me. It would be an excuse to call me a whore. And it would eventually lead to the demise of my engagement."
The "sexual escapade" referred to here is Andi's night spent with Nick in the Fantasy Suite. According to Andi, she got the sense that Josh would be angry if he found out that she slept with Nick – a tremendous red flag on its own – so she kept it a secret. When he found out, according to Andi's allegations, he used the information to slut-shame her. She also pinpoints it as a contributing factor in the end of their engagement.
Andi claims Josh is a little bit high maintenance too, once making her hold up a towel when they vacationed in a room with a blue bathroom.
"Apparently, it was the only way he could successfully make sure each of his dark strands was in place."
Uh... yeah. This one is obviously not as big a deal breaker as the others, but it's definitely worth an eye roll.
"What [people] didn't know is I was trapped with someone who, in my opinion, often behaved like an emotional abuser [...] He was good-looking, with an electric smile and the ability to charm anyone, and his affection in public made people believe that he was a loving partner, but by the end of our relationship, it was just a mask covering the control he exerted in private. He had an uncanny way of manipulating situations and conversations to make me feel like the worst person in the world."
I think this passage pretty much says it all. Manipulativeness and putting on a public persona of being a good person? These are all very dangerous allegations, and unfortunately we'll never know the full extent of what exactly went on between Josh and Andi in their private life. But, it is always important to listen to and consider the words of a victim of abuse – Andi, in this instance. Hopefully Amanda takes a look at a copy of It's Not Okay at some point on the series – Evan might conveniently have one – so that she can get all of the details and make her own decision.