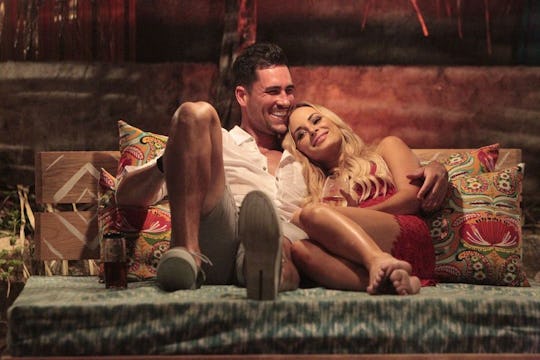 Rick Rowell/ABC
What Did Andi Dorfman's Book Say About Josh Murray? The 'Bachelorette' Didn't Hold Back
The ladies of Bachelor in Paradise were all aflutter when Josh Murray appeared on the island (to which I say: why?) with apparent plans to reignite a romantic rivalry with Nick Viall. Both men were the final two during Andi Dorfman's season of The Bachelorette, though Josh wound up receiving the final rose in the end. He and Andi got engaged, but their relationship was tumultuous and their engagement ended after nine months. Then Andi wrote a tell-all book that was pretty open about what went wrong between them. But what did Andi Dorfman's book say about Josh?
Andi definitely didn't hold back when it came to explaining why her engagement with Josh didn't work out. In her book It's Not Okay: Turning Heartbreak Into Happily Never After, she describes their relationship as "the most volatile and f**cked up of [her] life" and explicitly calls Josh an emotional abuser. Josh has denied her side of the story on a few different occasions and refers to the book as "fictional" while accusing Andi of just wanting to use the drama for sales. Romper reached out for a full statement from Josh, and he had the following to say:
"How is one supposed to comment on a fictional novel? It saddens me and is very unfortunate that Andi has chosen to characterize me in such a negative way. I respect the private relationship we had for those 8 months and I choose to go through life building others up, not tearing them down. I wish her nothing but the best in her new career and I pray she finds peace and happiness in her life."
According to Andi, her decision to sleep with Nick in the fantasy suite (and initially keep it a secret from Josh) was a big factor in their relationship's demise. Josh supposedly couldn't handle his jealousy and couldn't trust her after finding out. She wrote, "That one sexual escapade would become a power play used by my fiancé to justify his mistrust in me." Their relationship was one of extreme highs and lows, which can be common in abusive relationships, and Andi began to feel "utterly worthless" while she was with him.
What people didn't know was after two shows, I had become a twenty-seven-year-old woman who walked on eggshells in her own home. What they didn't know is I was trapped with someone who, in my opinion, often behaved like an emotional abuser. Yes, I said it, and I'm not taking it back. He was good-looking, with an electric smile and the ability to charm anyone, and his affection in public made people believe that he was a loving partner, but by the end of our relationship, it was just a mask covering the control he exerted in private. He had an uncanny way of manipulating situations and conversations to make me feel like the worst person in the world. In his own words, I was not only selfish and unappreciative, but the 'most miserable person he'd ever met.' If we didn't get invited to a red-carpet event, he'd say it was 'because of my actions with Number Twenty-Five [Nick Viall].' If I talked to another man, I was a 'whore.' If I disagreed, I was 'argumentative.' If I defied him, I was a 'bitch.'
Andi had a lightbulb moment while talking with a friend on the phone. She made a dark joke about her own murder ("Well... if I show up dead, tell the cops he did it.") and it shocked her, making her realize that she had lost herself in her relationship with Josh and that she felt "defeated." Ultimately, they broke up.
While Josh may not consider her comments to be factual, their relationship obviously wasn't working if they chose to end it. And it's great that Andi has been able to move on and find satisfaction on her own. Maybe Amanda should pick up a copy of It's Not Okay before things get any more serious with Josh in paradise.