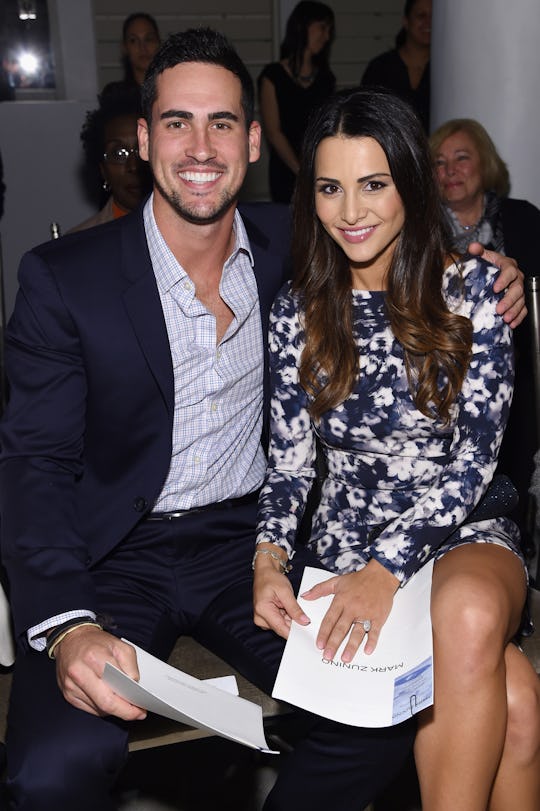 Jamie McCarthy/Getty Images Entertainment/Getty Images
Why Did Josh Murray & Andi Dorfman Split? The 'Bachelorette' Exes Had A Volatile Bond
Bachelor Nation doesn't have the greatest track record when it comes to producing long-term, stable romances. But every so often, a couple resulting from a season of the show manages to stick it out, proving that (however unlikely it may seem) you actually can find love in a matter of weeks on a reality show. Couples like Catherine Giudici and Sean Lowe (who have been married for several years and recently had a baby) and Trista Rehn and Ryan Sutter (the original Bachelor Nation super-couple) prove this point. But unfortunately, for every Catherine/Sean and every Trista/Ryan, there are at least three couples who didn't manage to make a long-lasting love match. The Bachelorette Season 10 star Andi Dorfman and her winner Josh Murray fall into the latter category, despite initially seeming like a solid pair. But why did Josh & Andi break up?
Like most reality TV couples, there was apparently a ton of drama surrounding this break-up, behind the scenes. Andi, who famously eliminated herself during Week 9 of Juan Pablo Galavis' season following a disastrous overnight date, was never one to beat around the bush – she's part of a small group of Bachelor Nation contestants who actually removed themselves from the competition, acknowledging that Juan Pablo wasn't the guy for her.
After removing herself from Juan Pablo's season and earning her own Bachelorette stint, Andi wound up briefly engaged to her season winner, Josh. The two never quite made it down the aisle, though, with their engagement ending after less than one year. Though Andi initially claimed that the split was mutual and that they'd remain friends, calling Josh her "first true love" when the break-up was first announced back in early 2015, Andi's tell-all memoir painted a very different picture of the relationship.
Andi's memoir It's Not Okay – focusing on her time spent on The Bachelor and The Bachelorette, as well as the duration of her relationship with Josh – was released in May 2016 and offers up a very different explanation for her split with Josh, who she refers to as "Number Twenty-Six" in the book.
According to the tell-all, the relationship was much more tumultuous and toxic than either half of the couple let on. Andi specifically called the courtship with her winner "the most volatile and f--cked up relationship" of her life, claiming that he would be emotionally abusive and had slut-shamed her for having spent the night with Josh's fellow contestant (and Andi's runner-up) Nick Viall during the overnight dates week.
"That one sexual escapade would become a power play used by my fiancé to justify his mistrust in me. It would be an excuse to call me a whore. And it would eventually lead to the demise of my engagement."
Yikes.
Andi went on to claim that Josh didn't care for her straightforward, pulling-no-punches persona off-screen as well as her ambitions in her career as an attorney. She alleged that Josh called her "selfish" for wanting to go back to her job, wanting instead to be the sole breadwinner for the two.
Josh, for his part, stayed pretty quiet about the whole thing, not explicitly shutting down any of Andi's claims but rather expressing sadness that Andi had "chosen to characterize [him] in such a negative way." When Romper reached out for comment, he had the following to say regarding the allegations in Andi's book:
"How is one supposed to comment on a fictional novel? It saddens me and is very unfortunate that Andi has chosen to characterize me in such a negative way. I respect the private relationship we had for those 8 months and I choose to go through life building others up, not tearing them down. I wish her nothing but the best in her new career and I pray she finds peace and happiness in her life."
Unlike Andi, who has apparently remained happily single since her split with her former fiance, Josh has returned to the reality dating show fold already. He appeared on VH1's Famously Single alongside other notoriously unattached stars like DJ Pauly D, Aubrey O'Day and Brandi Glanville. He's also rumored to appear on the upcoming third season of Bachelor in Paradise, alongside his former rival, Andi's runner-up Nick V. So maybe the third time on a reality dating show is the charm for Josh, and he'll find love on this go-around – if he's not too busy butting heads with Nick, at least.