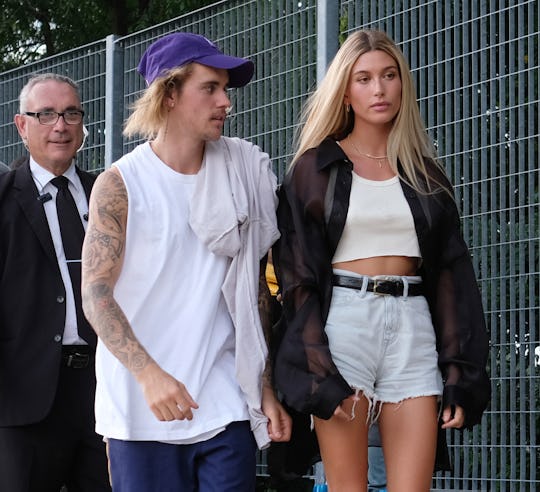 Nicholas Hunt/Getty Images Entertainment/Getty Images
Are Justin Bieber & Hailey Baldwin Married? Her Instagram Handle Tells All
Some couples and their secrets, am I right? There was a time in the not-too-distant past when couples announced they were married with splashy magazine spreads featuring pictures of their dresses, their food, their receptions. It was a glorious time, I'll tell you. Now? It's all about the secret wedding and then the sudden info drop. So if you're wondering if Justin Bieber and Hailey Baldwin are married, just head on over to the model's Instagram feed and you'll find out everything you need. Because she just low-key changed her last name to Baldwin, and I guess that's their version of a wedding announcement.
Baldwin and Bieber reportedly got engaged in July, as per pretty much every entertainment media source ever, and they apparently weren't keeping the engagement much of a secret. A source close to the couple told E! News at the time that the 24-year-old singer proposed to the 21-year-old model very publicly: "It happened Saturday night in front of a crowd in Baker's Bay. Justin made arrangements for the ring when they were in NYC and knew that he wanted to propose to her. It was a sudden decision but Justin always knew Hailey and him had a special bond that was incomparable."
When it comes to their marital status, however, the couple has been a little more sly. Because they've apparently been married for two months, and they shared the news via Instagram posts.
Romper has reached out to reps for both Baldwin and Bieber for comment and is waiting for a reply.
Bieber posted this pic of himself and Baldwin on Instagram on Thursday with the caption, "My wife is awesome."
As for his awesome wife? She went ahead and changed her last name on Instagram to "Bieber," which seems to point to the idea that the deed is officially done. Also she apparently went super official back in October by filing paperwork to trademark the name Hailey Bieber, as per The Blast, in order to launch a clothing line under that name. So I guess we have that to look forward to as well.
While the couple have yet to come out with specific details, Us Weekly reports that the two were married at a New York City courthouse ceremony in September. A source confirmed that the two were taken in through a back door and married in a private office, where the bride wore a short white dress and the groom wore his usual baggy shirt and pants.
Also they supposedly held hands, which must have made things pretty special.
I guess it's a real sign of how uncool I am that all I want is a spread in People magazine of their lavish wedding, complete with celebrity guests and a crazy menu and a picture of Baldwin smashing a piece of wedding cake into her new husband's face while they laugh and laugh.
Sadly, I suspect I will just have to accept that the new wedding announcement is changing your name on Instagram.
These are dark times, my friends.