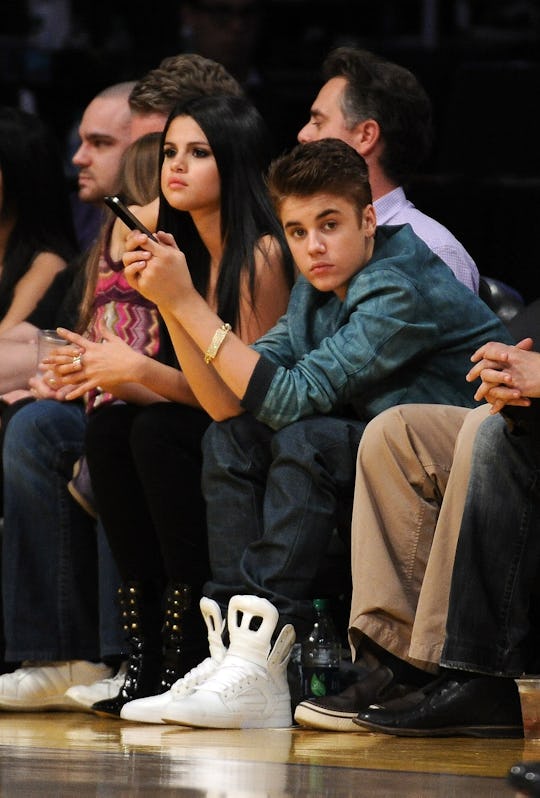 Harry How/Getty Images Sport/Getty Images
Are Justin Bieber & Selena Gomez Still Friends? It Certainly Looks That Way
These days, it feels like all that everyone in entertainment talks about is Justin Bieber. From his album, to his brand new tour, to all of his daily actions in between — America (and the rest of the world, for that matter) just can't get enough of the pop singer. With Bieber being such a high profile celebrity, many people are apt to watch he does in his every day life and posts on his social media. This also means that people are to ponder some pretty specific and personal questions. Questions such as whether Justin Bieber and Selena Gomez are still friends.
The duo's on-again-off-again relationship and constant flirting in recent months have lead many to wonder what they are exactly. So where does this latest query about their friendship stem from?
This past week, Bieber posted an old photo of the former couple kissing on his Instagram with the caption "Feels." Gomez reportedly commented "Perfect" on the photo, according to US Weekly, and liked the post as well. This was enough to send everyone into a frenzy over where the two stood in each others lives. But does the fact that Selena liked the photo mean anything about their friendship? To quote Bieber himself, "what do you mean?"
Gomez has gone on the record once before to talk about her and Bieber's friendship. In 2010, Gomez told People that the two were "very lucky, but we just like to hang out." But that was before the two went public with their whirlwind relationship.
The two were first spotted by paparazzi in December 2010 leaving an IHOP. Two months later, the two had made their first public appearance together at the Vanity Fair Oscars Party. By November 2012 the two had officially broken up, but have been spotted together multiple times, on and off, since then.
More recently, Gomez told Elle Magazine in October 2015 that she hasn't ruled out the possibility of getting back into a relationship with Bieber. "I'll forever support him and love him in a way that...We grew up together," Gomez told the magazine. Sounds pretty friendly to me.
Compounding the rampant rumors are reports that Gomez is considering attending Bieber's last concert in L.A. this upcoming Monday — although if the that's really the case, it doesn't mean the two are romantic, just that they're still on friendly terms.
Like Gomez, I still look at my ex-boyfriend's Instagram accounts from time to time and yes, sometimes I will (okay, accidentally) like a photo or two. And who hasn't kept in touch with an ex at some point in their life, simply for the fact that you shared some pretty hilarious moments or side-splitting jokes? If a second romantic attempt never happens, it seems that everything will still be okay over in Jelena land. And if you're still sad? Remember that we may just get a pic of the two wearing some pretty epic "BEST FRIENDS FOREVER" jewelry, somewhere down the line.