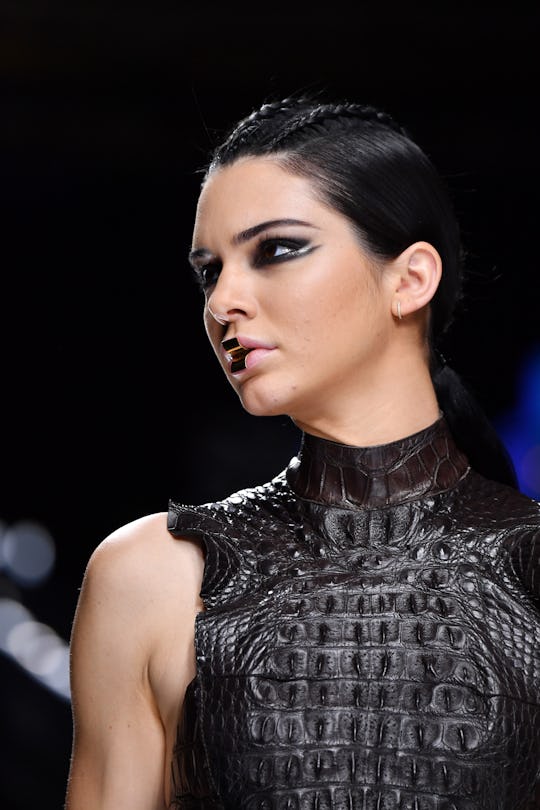 Pascal Le Segretain/Getty Images Entertainment/Getty Images
Is Kendall's Robbery Related To Kim's?
A slew of celebrity homes have been burglarized over the last few weeks and it seems model Kendall Jenner is the newest victim. According to police, Jenner reported a robbery early Thursday morning, when the younger Kardashian sister noticed jewelry missing from her bedroom in her California mansion. Some have speculated that this latest hit is part of an organized Hollywood Hills heist, while others wonder if Kendall Jenner's & Kim Kardashian's robberies are related. Los Angeles police have yet to find a suspect, so it's too early to speculate whether the sisters were targeted by the same person. Romper has reached out to Jenner's publicist for comment.
According to E! Online, police officials said that an unidentified person placed a 911 call at 1:15 a.m. Pacific Time to report a break-in at Jenner's multimillion dollar home in the Hollywood Hills. (TMZ, which first broke the story, later reported law enforcement sources confirmed that Jenner called after hearing a suspicious noise hours after returning home Wednesday evening.) Officers who arrived at the scene searched the house, but did not find any intruders or any sign of forced entry, E! Online wrote. However, the 21-year-old Jenner did report $200,000 worth of jewelry was missing from her home. Police can't confirm the theft, but the investigation is ongoing, officials told reporters.
Jenner, of course, isn't the only Kardashian sister to victim of theft. In October, older sister Kim Kardashian West experienced a horrifying robbery when she was in Paris for Fashion Week. Kardashian West was bound, gagged, and held at gunpoint by five alleged thieves in her private Paris apartment. The robbers stole millions of dollars worth jewelry, but dropped a platinum mounted diamond cross that cost more than $33,000 during their getaway. Four suspects in the burglary were charged in January, according to US Weekly. Kardashian West has remained out of the spotlight since surviving the chilling attack.
Though no suspects have been caught in Jenner's case, it's hard to believe the two incidents are connected. More likely, Jenner is just the latest victim in a string of celebrity robberies. The alleged robbery at Jenner's Hollywood Hills palace comes after a rash of break-ins at celebrity homes in the Los Angeles area, including that of Nicki Minaj, Alanis Morissette and Nick Young, among others, according to E!. But, TMZ reported, although it seems thieves are targeting only the rich and famous, law enforcement said burglaries have become "a much bigger problem citywide."