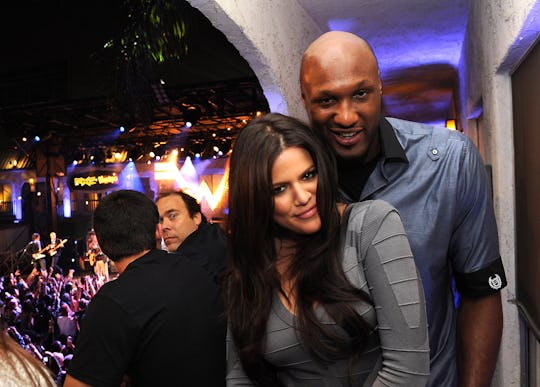 Michael Buckner/Getty Images Entertainment/Getty Images
After Finalizing Their Divorce, Are Khloe Kardashian & Lamar Odom Friends Now?
Khloé Kardashian has not had an easy time in the love and relationship department, but that seems to be changing now that she's with Tristan Thompson and reportedly pregnant with her first child. Things are really changing for Khloé in a good way. Even if the pregnancy rumors aren't true, she and Thompson seem as tight as ever. Which begs the question: Are Khloé Kardashian and Lamar Odom still friends after finalizing their divorce and moving on with their lives?
In case you missed it or somehow have been sleeping whenever the Kardashians have been on TV or magazine covers over the past few years, Odom is Khloé's ex-husband. They got married in 2009 and even started a Keeping Up with the Kardashians spinoff called Khloé & Lamar.
Throughout, Odom struggled with substance abuse and by 2013, there were rumors that divorce was "imminent." They eventually split up, sold their house together, and began dating other people. In July 2015, they filed and signed divorce papers but it was never finalized.
When Odom overdosed at a Las Vegas hotel later that year, according to E! News, he went into a coma and Khloé put off finalizing the divorce. She was at his bedside all the time, according to media reports, and was totally focused on being there for her ex while he recovered.
After he woke up out of his coma, Khloé and her family reportedly continued to help Odom. Once he was well again, the two finally finalized their divorce. In summer 2016, Khloé met and began dating Thompson.
Before that, she and Odom did their best to remain friends. Khloé told The Daily Mail in March 2016, "'I always want to feel like I can say hi to anyone I've had a relationship with if I saw them in public. I never want to go anywhere and be nervous because so-and-so is there."
As with many relationships, there's still a lot of love, respect, and friendship between Khloé and Odom. She added in the same interview that not all relationships can turn into great friendships right away. According to E! News, Khloé said:
You need a break, so you can process everything, and you need to respect yourself and your own emotions. If it's toxic to remain friends, you shouldn't, and if you haven't had closure, you can't be friends yet. But it doesn't have to be that way forever.
Khloé reportedly tried to introduce Thompson and Odom, but the two men allegedly almost got into a fistfight, according to Maxim. "Lamar's friends had to pull them off each other once things got really bad. Khloe now realizes they can't be in the same room ever again," a source told Radar.com. According to this source, Khloé and Odom never hang out anymore because of that incident.
Still, they root for each other from "a distance," according to an interview Odom last month with Complex magazine. He told the publication, "I wish her well. Still got love for her." He added that he hasn't had much contact with anyone in the family since the split became official. Odom said of Kanye West, who's married to Kim Kardashian:
Kanye is a good dude. He was there for me when I was in a coma, he was there for me when I woke up. I would say [our relationship] probably deteriorated with all the other relationships that were built. But it's like that sometimes. It'd probably be weird [to contact Kanye now.] But I would have no problem with it.
So it sounds like they're at least capable of being kind to each other even if they're not exactly besties anymore, which is totally normal.
It makes total sense that the two have moved on and that there's more space between them now that Kardashian is in a serious relationship with Thompson and allegedly might be a mom by early next year. Hopefully, Odom's just as content as Khloé is these days. Relationships aren't always forever.
Watch Romper's new video series, Romper's Doula Diaries:
Check out the entire Romper's Doula Diaries series and other videos on Facebook and the Bustle app across Apple TV, Roku, and Amazon Fire TV.