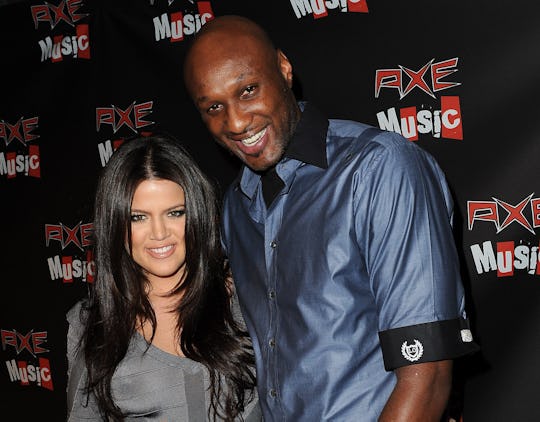 Michael Buckner/Getty Images Entertainment/Getty Images
This Is What Lamar Odom Thinks Of Khloe Kardashian's Pregnancy Rumors
It can be tough to hear when an ex is moving on with their life and making big moves. And in the world of celebrity gossip and Twitter feuds, it's nice to see people root for one another, even though they're not together anymore. Although the Kardashian family still hasn't confirmed the news, Lamar Odom's response to Khloé Kardashian's reported pregnancy is pretty sweet.
The 37-year-old said on Complex's Everyday Struggle podcast, that he and his 33-year-old ex-wife are currently "cordial from a distance." He added in response to Kardashian's alleged pregnancy with her new boyfriend Tristan Thompson, "I wish her well, still got love for her." Hey, when it comes to dealing with past relationships, cordial from a distance and wishing each other well is sort of the best you can ask for.
Romper has reached out to Kardashian's rep for comment, but has not heard back at this time.
Kardashian and Odom married after dating for a month in 2009. Kardashian filed for divorce in 2013 after news that his drug relapse and allegedly cheated on her. In 2015, though, Kardashian put the divorce off when Odom was hospitalized and ended up in a coma. Kardashian was at his bed-side throughout his near death experience.
Once Odom was out of the hospital and on the mend, Kardashian re-filed for divorce in May 2016, and it was finalized last December, according to People. So, the two have a long history together.
In the months after his release from the hospital, Kardashian helped Odom financially and emotionally, even going so far as to move him into a new house and ensure that he healed. At the time, a source close to the family told People, "She was loyal for a long time and taking care of him, but she's not a babysitter and needs to move on with her life."
It's always sad when relationships end after going through so much together, but it seems like everyone has now moved on. Kardashian began dating Thompson in late 2016, before the divorce was finalized, so they were apparently on the same page about their future together. But it was not easy.
Any fan of Keeping Up With The Kardashians remembers all of the back and forth that they went through, even after the accident, to get to this place. Last year, Kardashian dished out some great breakup advice that might be the key to their "success." According to E! News, she said:
Surround yourself by friends and family that you love that really occupy your mind — I think that is super important. The more alone you are the more you think about something. You're just going to overthink and our brains play tricks on us, which is never healthy. And eventually everyday it will get better and better.
Odom and the Kardashian family will always be connected somehow. Odom said on the podcast Wednesday though that his relationships with other members of the family, like Kim Kardashian's husband Kanye West, are more than strained. He said on the podcast:
Kanye is a good dude. He was there for me when I was in a coma, he was there for me when I woke up. I would say [our relationship] probably deteriorated with all the other relationships that were built. But it's like that sometimes. It'd probably be weird [to contact Kanye now.] But I would have no problem with it.
It really is crazy how things change so fast, but it's nice to know that Odom is at least publicly cheering his ex and her new boyfriend on as they reportedly welcome a new person to their family.
Watch Romper's new video series, Romper's Doula Diaries:
Check out the entire Romper's Doula Diaries series and other videos on Facebook and the Bustle app across Apple TV, Roku, and Amazon Fire TV.