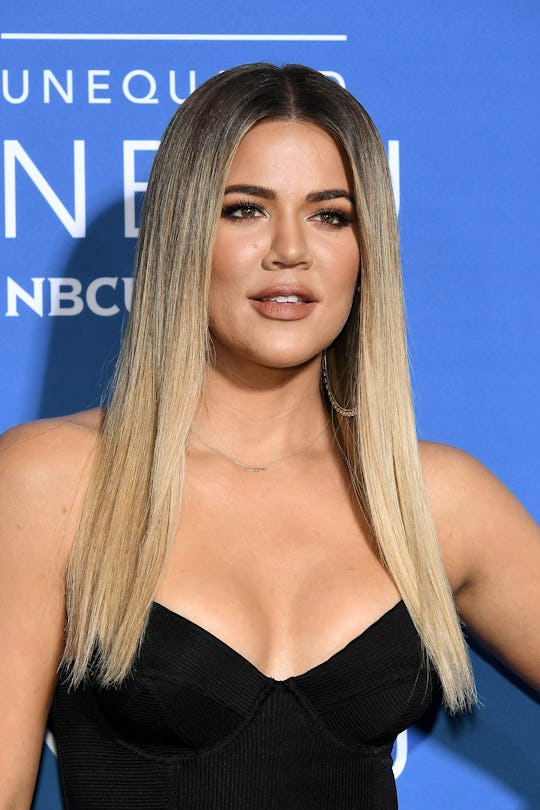 Dia Dipasupil/Getty
Khloé Kardashian Breaks Silence About Having Kids On The 'KUWTK' Premiere
Due to some really convenient timing, news broke that not one, not two, but three Kardashian sisters are expecting children just days before the premiere of the 10th anniversary of Keeping up with the Kardashians. So naturally, everyone is tuning into the show to see if the family reveals any news or confirms the rumors. Khloé breaks her silence about kids on the Keeping up with the Kardashians premiere, but in a roundabout way.
The rumor mill started churning overtime when news broke that Kylie Jenner was, allegedly, pregnant by her boyfriend Travis Scott. Shortly thereafter, news broke that Khloé was also pregnant, oh and that Kim Kardashian and Kanye West's surrogate was pregnant, meaning that there are potentially three more Kardashian children about to be running around this world. Kardashian children tend to be extremely adorable so I'm not mad about it, but I was hoping for a little more concrete information from the stars of the show on the 10-year anniversary episode. Unfortunately, everyone is being even more coy than usual, with most of the episode spent discussing Khloé's move to Cleveland and the fall-out after Kendall Jenner's disastrously tone-deaf Pepsi ad. Where is the baby news, Kardashians? The world wants to know.
Most of the episode featured Kourtney and Kim along with some friends, including my favorite, Malika, flying to Cleveland to visit Khloé. She had moved to the city with her boyfriend, NBA player Tristan Thompson. Most of the "drama" centered around her sisters coming to terms with the fact that Khloé had settled down in Ohio, and probably wasn't going to be coming back home any time soon. There was a moment when she was asked point-blank when she and Tristan were having kids. And Khloé, frustratingly, demurred, revealing only that she'd like it to happen eventually.
"Sometime in the next 70 years," she said in the confessional portion of the show alongside her sister Kim. While the show was clearly trying to present Khloé and Thompson's relationship as stable with a very serious future, if anyone was hoping for some sort of confirmation of all the baby news then they were disappointed. Obviously, because these episodes usually end with some sort of warm and fuzzy resolution, Kim and Kourtney decided they were happy Khloé was so happy in Ohio. "Khloé and Tristan are really cute together," Kim said, adding, "She's got a good crew over there." Kourtney joined in, saying that she was glad she didn't have to worry about her sister. "She's safe. She's in good hands," she said.
There is, of course, the possibility that Khloé was not pregnant at the time of this trip. Perhaps at the time there was nothing to reveal. After all, even if she really is going to bring another little Kardashian into the world, nobody knows how far along she is for sure, or when she would have told her sisters. As for the rest of the baby rumors, there was no confirmation on those fronts either.
In the previous season, Kim and Khloé did talk a lot about having children, and they both underwent medical procedures to determine how easy or difficult it would be to have children. Kylie, however, did not appear to be planning a child, and didn't even appear in the first episode to the annoyance of many. It looks like the world is going to have to wait a little bit longer to find out if any of this is true or not. But to be honest, I'd look more closely at the stars' social media accounts than the show if I wanted the real scoop.
Check out Romper's new video series, Romper's Doula Diaries:
Check out the entire Romper's Doula Diaries series and other videos on Facebook and the Bustle app across Apple TV, Roku, and Amazon Fire TV.