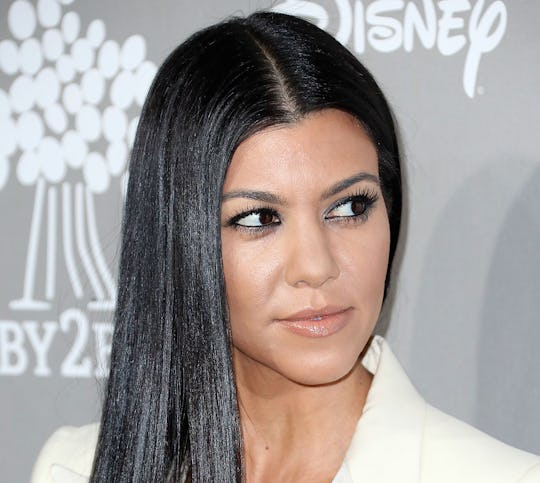 Are Kourtney Kardashian And Justin Bieber Dating? Eh, Probably Not But Who Knows
The rumor mill is always running when it comes to the Kardashian-Jenner clan, but the most recent whispers have people wondering is Kourtney Kardashian and Justin Bieber are dating after the pair were spotted together recently in Los Angeles. On Friday, December 11, the two both hung out at a night club, The Nice Guy, and later at a karaoke bar. And clearly, any time two celebrities are in the same building together, they are definitely doing it.
While a romantic relationship between Kourtney, 36, and Justin, 21, feels highly unlikely, wouldn't it be wonderful to see a stunning mother of three rebound from a tremulous relationship with a hot piece of tattooed boy-hunk 15 years younger than her? I mean, if that doesn't say, "I'm over you in the best possible way so eat your heart out, you mistaken, regretful hot mess," I don't know what does.
And while it is a stretch to assume Kardashian and Bieber are anything other than friendly cohorts in an almost-too-easy act of rumor-mongering, it isn't completely outside the realm of possibility to think they would be romantically involved, especially considering that Kourtney and Justin's Friday night hang-out wasn't the first time the two have been seen in public together. On Friday, October 9th, the two were spotted at a West Hollywood Nightclub and later at Universal Studios.
They've also posted a few pictures of themselves together via social media, adding fuel to our inner fire of hope that this unlikely union is an actual thing. (Hope... Awkward "I can't look away but it kinda weirds me out" anxiety... same thing.)
And if that doesn't at least spark your dirty-pleasured interest, there's also the fact that Kourtney's mom and manager, Kris Jenner, is currently dating Justin's tour manager, Corey Gamble. A romantic connection already exists, so why not just build upon it, you guys?
But perhaps the most damning evidence to date is the fact that Justin babysat for Kourtney early this year, watching her 5-year-old son, Mason. Come on you guys, how awesome would this be? In a day and age when it's almost a misplaced Hollywood right of passage for A-list husbands to cheat on their wives with the nanny, that Kourtney ends up with her 21-year-old babysitter, who just so happens to be a pop superstar? You can't write this stuff!
Of course, and it is worth repeating, none of this is essentially our business. Our culture has grown accustomed to diving into famous people's lives with a misguided sense of absolutism, when it really isn't our place. Kourtney and Justin, while uber popular and insanely rich, are just trying to live their lives like the rest of us.
So sure, a future Kardashian-Bieber wedding is an extremely far stretch and it's not our place to assume but the mind does wonder and, in the end, the rumor mill will continue to run.
Images: Frederick M. Brown/Getty Images; Justin Bieber/Instagram; Giphy