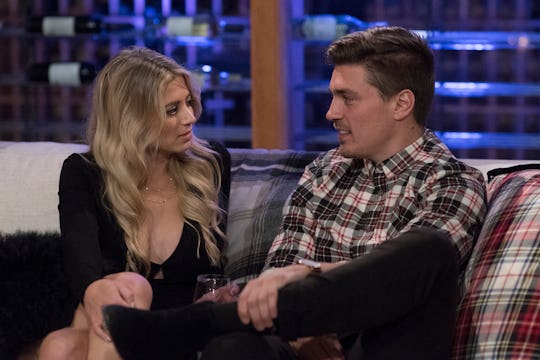 Lorenzo Bevilaqua/ABC
Lesley & Dean May Be A 'Bachelor Winter Games' Couple That's Built To Last & Here's Why
After Dean Unglert from Rachel Lindsay's season of The Bachelorette had a somewhat disastrous experience on Bachelor in Paradise where he bounced back and forth between two different women, The Bachelor Winter Games was his chance to fix his semi-tarnished image. And when he met former Bachelor contestant Lesley Murphy, he was given that opportunity. But are Lesley and Dean still together after The Bachelor Winter Games? The couple had chemistry right away and although filming is over, their love story, so to speak, has yet to finish playing out on the show.
Since this is far less serious than, say The Bachelor or The Bachelorette, though, the contestants have been way more lax with the status of their relationship after the show. And, it seems, Dean and Lesley are unafraid to admit that they're still dating after The Bachelor Winter Games. The duo recently spoke to Entertainment Tonight about their relationship and made it clear that, two months after filming wrapped for the new Bachelor spin-off, they're still going strong. "I like that when we hold hands, he makes me feel very comfortable, and I like how he treats other people," Lesley said of Dean. "He treats other people with a lot of kindness and respect and that's very different from how a lot of people knew him on Paradise."
Although Dean said that he didn't want to view The Bachelor Winter Games as a way to redeem himself, so to speak, he did note that he was able to learn from his mistakes from Bachelor in Paradise. Apparently, that meant falling for Lesley.
Dean also said in the same interview that he "met some incredible people," but something tells me he was mostly referring to Lesley. "She's a very courageous person," Dean said about his current girlfriend. "She's strong, and that's first and foremost what attracted me to her. Of course she's beautiful, and if you want to talk about someone who's kind to everyone, it's her! It's kind of annoying when we go places and she literally makes friends with every single person we meet."
I guess any non-disclosure agreement is more about engagements or otherwise big news, because both Dean and Lesley seem plenty open about their relationship as it currently stands. They might not be as forward about it on Instagram, but from the few photos here and there, it's pretty obvious that they're still together and having a good time. I mean, who else could she be in bed with who's known for wearing those telltale capri sweatpants?
Just in case anyone needs more proof that Dean and Lesley are together after The Bachelor Winter Games, Dean revealed to Us Weekly that he was planning to take his Valentine's Day date skydiving, without revealing who she was. How very Bachelor of him, am I right? Later, Lesley captioned the Instagram photo of her and a mystery guy in bed with "Jumped out of a plane yesterday and landed on cloud 9," so I doubt it's just a coincidence. If they were able to make a connection on the show and keep that spark alive two months after meeting and falling for each other, that's a pretty big accomplishment by Bachelor Nation standards, only because things are likely very different once you're out of The Bachelor bubble.
By the fourth and final episode of this season of The Bachelor Winter Games, Dean and Lesley will likely be one of the couples left standing and by all accounts, they may very well have found love on the show. Since they were being plenty open about their relationship as recently as Valentine's Day, it's safe to say that they're still together and going strong.
Check out Romper's new video series, Romper's Doula Diaries:
Watch full episodes of Romper's Doula Diaries on Facebook Watch.