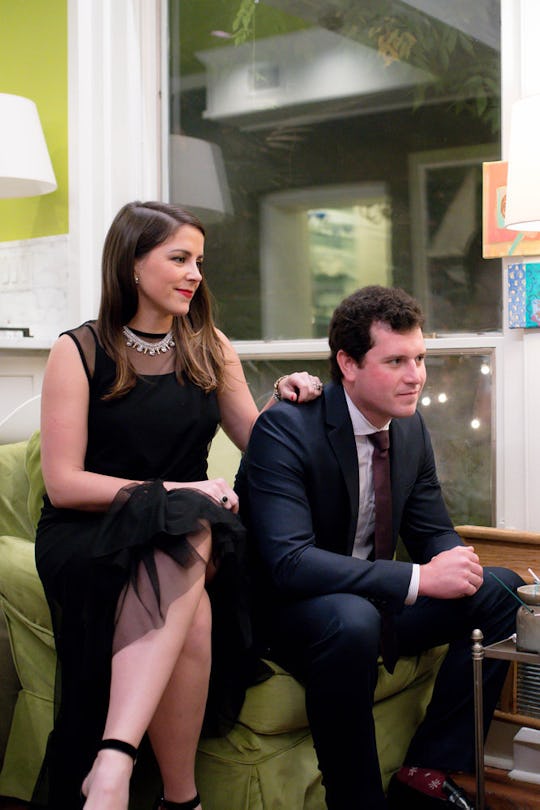 Marcus Ingram/Bravo
Louis & Hannah Had A Tough Time On 'Southern Charm Savannah' Season 2
Louis Oswald and Hannah Pearson were already a couple when they signed on for Bravo's Southern Charm spinoff. They had been together for more than four years, so it seemed like they were solid. But it's been two seasons (and a lot of drama) since then, which could be enough to rock the most settled of couples. So are Louis and Hannah still together after Southern Charm Savannah?
Hannah and Louis have both been preoccupied with their various business ventures: Hannah has her corporate career and dress line, while Louis' dedication to JL The Brand caused a few issues between them. After being together for five years, Hannah began to worry that she was not as much of a priority to Louis as his career. The status of their relationship has been explored throughout Season 2, and they had a big fight while on vacation with the rest of their co-stars. But despite all the arguments, it appears Hannah and Louis may have found a way to make it work after all.
Social media indicates that the two are still involved, though there aren't a lot of details available about how they overcame their relationship difficulties. On Instagram and Twitter, Louis and Hannah mention each other with the ease of a long term couple, with no signs of trouble in sight.
Both Louis and Hannah appear on each other's social media accounts regularly. While promoting the show with a cast picture on Instagram, Louis shared a detail about Hannah in his caption, writing, "@hnpearson almost managed to get me in the pool!" He also posted a photo of just the two of them in July 2018, stating that he "had the best time traveling" with her. If they're going on trips together, then it would stand to reason that they are still a couple. Louis posted a solo picture of Hannah too, remarking on how adorable she was in his accompanying caption: "How cute is this little one!"
The same kind of content can be found on Hannah's Instagram. Louis is featured in lots of her photos, always with a friendly caption or a joke. In a picture taken "right before the shipwreck" of their trip on the show, Hannah summed up her feelings with a zipped-mouth emoji and the hashtag "#menarefrommarswomenarefromvenus." If there are any hard feelings there, then they aren't being shared on social media. But it seems as though Louis and Hannah are going strong.
Hannah and Louis have broken up in the past on the show, but that didn't mean their relationship was over. They were taking a break when Season 2 premiered, though they continued to be in each other's lives and Hannah was insistent that she had not dumped Louis. While they had their disagreements (to put it mildly), it looks like they've landed in a good place since the show finished filming. Of course, it's always possible that they're exes who are now incredibly friendly, but based on their history, it's easy to assume that they've remained a couple.
There's no telling what might change in the world of Southern Charm Savannah, but right now Hannah and Louis are back to business as usual. Fans may have to wait until next season to see where the future takes them, because the show didn't have a reunion special after Season 1, so it's hard to say whether there will be one to provide an update after Season 2. But unless there are major changes offscreen before Southern Charm Savannah picks up for Season 3 (if it does), then viewers can rest assured that Hannah and Louis are doing well once again.