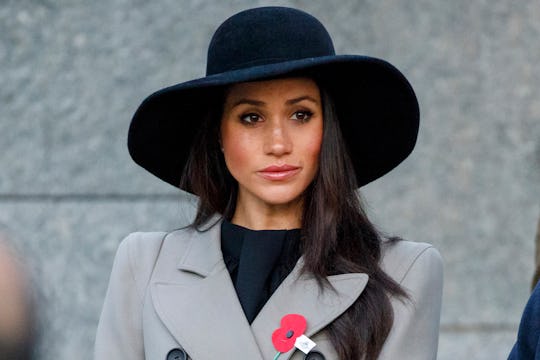 WPA Pool/Getty Images Entertainment/Getty Images
Are Meghan Markle & Her Sister Close? The Situation Is... Complicated
The day is almost here! In just a week, Meghan Markle and Prince Harry of Wales will tie the knot and start their lives of wedded bliss. But it has been a bumpy road for Meghan since the royal couple announced their engagement in the fall. Although the former actor seems to be over the moon in love, she's had to contend with family members denouncing her relationship publicly over the last few months. And it's led fans to ask: Are Meghan Markle and her sister close? Or close to any of her relatives for that matter? The situation is complicated, to say the least.
The short answer is, no, Markle and her half-sister, Samantha Grant, are not close at all. In fact, media reports often label Grant as the former Suits star's "estranged half-sister." And it's really not that hard to come to such a conclusion: Grant has spoken out against Markle's impending nuptials, her so-called behavior as a royal bride-to-be, and the British royal family as a whole. In fact, Grant claimed this week that Markle wouldn't provide financial help to her dad, Thomas Markle, who is reportedly in deep debt, according to Inside Edition.
Grant told Inside Edition that Thomas, who's walking Markle down the aisle, needed help to pay for wedding expenses. She claimed, according to Inside Edition:
He was very clear with her about the fact that he needed some help and by his report, twice, she flatly refused. I live on a lot less than she does and he really had to chew on his pride to call me and ask me for help.
Markle has yet to respond to her estranged half-sister's claims. Romper reached out to Markle for comment, but did not hear back in time for publication.
But this is not the only time Markle's half-sister has criticized her publicly. Grant has also taken to social media recently to complain that the retired actor didn't invite members of either side of her family to the wedding, which takes place on Saturday, May 19 at St. George's Chapel on the grounds of Windsor Castle, according to Life & Style. Grant posted to Twitter, Life & Style reported:
Not just the Markles... Even Doria's family... sister Sandy, who I adore, and who is lovely was not invited!? Joe? This #royalwedding is rude! I don't care if you don't like hearing it! Freedom of speech. Trade out everyone Meg? Not humanitarian! WTF.
She continued in another tweet, according to Life & Style:
Media can stop skewing to suggest that the family is not considerate of Meg. She is not considerate of the Raglands or the Markles. Apparently not even royal money buys class. It is in poor taste to exclude the whole family.
And that's not the first time she's used social media to complain about the lack of invitations in her family's mailbox. In April, she slammed Markle and Prince Harry in now-deleted tweets for allegedly leaving the Markles out of the royal ceremony, according to The Daily Star. Grant has not responded to Romper's request for comment regarding her relationship with Markle.
Of course, Grant's behavior may lead people to believe she jealous of her estranged half-sister and her success. So much so that Inside Edition even asked about that possibility flat-out, to which Grant replied:
We have never been jealous of Meg. We have been supportive and excited. Nobody is milking her for money; you help your father in return for everything he has done for you. It's that simple.
Whatever the motivation, it's safe to say that Grant's constant criticism — and in public, no less — has put a strain on whatever relationship they had. Hopefully, Markle and Prince Harry's wedding can go off without any drama.