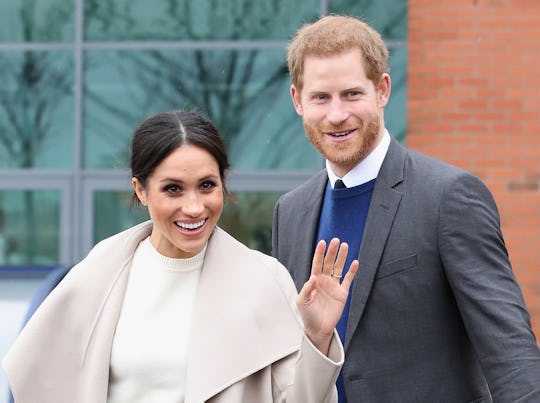 Chris Jackson/Getty Images Entertainment/Getty Images
Is The Royal Wedding Open To The Public? You Won't Believe The Answer
Since Prince Harry of Wales and Meghan Markle announced their engagement, millions of people from around the world have become obsessed with their impending nuptials. And the day is almost here! In just a month, Prince Harry and Markle will exchange their vows in what's expected to be an extravagant ceremony. Of course, people are curious about the guest list, which is still kept secret. But there's another question on everyone's mind: Is the royal wedding open to the public? The answer, surprisingly, is yes — with a caveat.
The public won't be able to watch the actual ceremony itself, which is a bummer. But Prince Harry and Markle have invited more than 2,600 members of the public into the grounds of Windsor Castle to watch their arrival at St. George's Chapel on Saturday, May 19, according to CNN. They will also get to witness the newly married couple leave the Chapel and exit the castle grounds in a carriage procession that will ride through the town of Windsor, CNN reported.
Kensington Palace said in a press release that the royal couple "have said they want their wedding day to be shaped so as to allow members of the public to feel part of the celebrations too. This wedding, like all weddings, will be a moment of fun and joy that will reflect the characters and values of the bride and groom."
But there are stipulations to the public guests. Of the 2,640 invited, 1,200 members of the public across the United Kingdom will be from "a broad range of backgrounds and ages," according to Cosmopolitan. Another 200 will be from a variety of groups and charities Prince Harry and Markle have worked with, and another 100 will be students from two local schools. Among the rest of the 1,140 guests will be members of the Windsor Castle community and the Royal Households and Crown Estate, Cosmopolitan reported.
People living in Windsor, however, will be able to watch the carriage procession as it moves through the town, according to the Kensington Palace press release.
Overall, it's not necessarily shocking that Prince Harry and Meghan Markle would invite members of the public, given that they are both well-known for being humanitarians. But it is surprising when you consider historical evidence: When, in 2011, Prince William became married to Kate Middleton at Westminster Abbey, the 1,900 guests present were friends, family, foreign diplomats and leaders, charity workers, and religious leaders, according to CNN. They didn't issue invites to the public, though.
Prince Harry and Markle's ceremony guest list is less than half that. The royal couple invited around 800 guests, which is all St. George's Chapel can accommodate, according to Harper's Bazaar. Westminster Abbey in London, on the other hand, can house 2,000 people, Harper's Bazaar reported.
And, in actuality, the stark difference in capacity makes Prince Harry and Markle's decision to invite the public even more incredible. The number of public guests they've invited is more than triple that of their ceremony guest list, which will most likely include friends, family, and dignitaries. But, as reported earlier this month, the still-secret guest list will not include an official list of political leaders.
Although members of the public can join in on the festivities come the morning on May 19, the U.K. government decided not to grant a public holiday for Prince Harry and Markle's royal wedding, according to Harper's Bazaar. Having their wedding over the weekend does break royal protocol, but, as Harper's Bazaar noted, that could be because of this whole it-wouldn't-be-a-public-holiday business.
Either way, May is going to be an exciting month for the British Royal Family — and the public that loves them.
Check out Romper's new video series, Bearing The Motherload, where disagreeing parents from different sides of an issue sit down with a mediator and talk about how to support (and not judge) each other's parenting perspectives. New episodes air Mondays on Facebook.