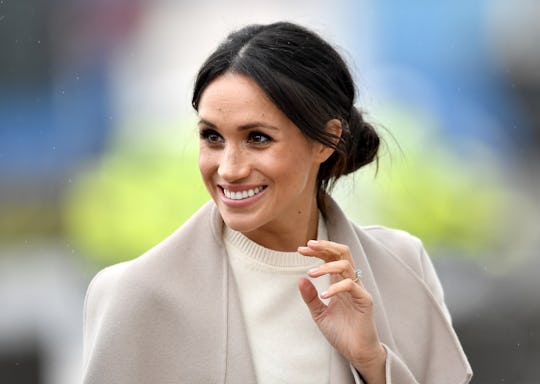 Charles McQuillan/Getty Images Entertainment/Getty Images
What Will Be Meghan Markle's Royal Job? It Will Suit Her Well
In November, Prince Harry of Wales and the amazing American actor Meghan Markle announced their royal engagement to the delight of fans everywhere. The couple will tie the next in less than two months, at which point Markle will no longer work in Hollywood as an actor. But she will continue with her activism. So what will be Meghan Markle's royal job? Her new role falls in line with her background in advocacy work perfectly.
Markle is set to become the fourth charity patron of the Royal Foundation after she and Prince Harry exchange vows in May, according to Town & Country. The Suits star will join her soon-to-be husband, as well as Prince William and Duchess Kate, in supporting the Foundation's current charity work, in addition to advancing causes she is passionate about, Town & Country reported.
So what is a charity patron? The role dates back to sometime in the 18th century, when George II of Great Britain became involved with the Society of Antiquaries, according to BBC. Royal family members lend their names to charity groups through a formal patronage, and use their status and exposure to bring awareness to causes and draw in other donors and celebrities, BBC reported.
I can only imagine that Markle will exceed in the role of charity patron. The 36-year-old humanitarian is an advocate for UN Women, a global ambassador for World Vision, and a counselor for the U.K.-based charity, One Young World, according to CNBC. She has a long history in fighting for gender equality, dating back to the halls of her school when she was just 11 years old.
Actually, it's a great story: One day, in school, Markle saw a television ad for Procter & Gamble dish washing soap, she explained during her speech at the U.N. Women's 2015 conference, according to Marie Claire U.K. The tagline? "Women all over America are fighting greasy pots and pans."
Two of her male classmates joked about how "women belong in the kitchen," which rightfully pissed her off, Marie Claire U.K. reported. Her dad, she said during the speech, encouraged her to write letters to the executives explaining why the tagline was wrong. And thus, her career as an activist began.
At a recent London event honoring the Royal Foundation's work, Markle said during a Q&A session that "it's very important to want to hit the ground running" in her new role, CBC News reported.
Markle then referenced the #MeToo movement and Time's Up campaign, and added, according to CBC News:
There is no better time to really continue to shine a light on women feeling empowered and people really helping to support them.
Markle was joined by her fiancee, and the Duke and Duchess of Cambridge at the event in February. Commenting on the Foundation's charity and their patronage, Prince Harry told the crowd, according to CBC News:
I think it's really good we've got four different personalities, we've all got that same passion to want to make a difference, but different opinions. Working as family does have its challenges ... but we're stuck together for the rest of our lives.
It's exciting that Markle will continue her advocacy work once she is officially a part of the British royal family. But her fans, of course, are disappointed that she has decided to step away from acting. (How could they not be? She is amazing at her job.) Never fear, though! Markle diehards can catch the soon-to-be Princess Harry of Wales in her beloved role as Rachel Zane on USA Network's hit show Suits starting Wednesday, March 28, according to InStyle. That's the day Markle's seventh and final season of Suits will premiere, with the first episode titled, appropriately, "Time To Say Goodbye," InStyle reported.
What a way to end a legacy, people.