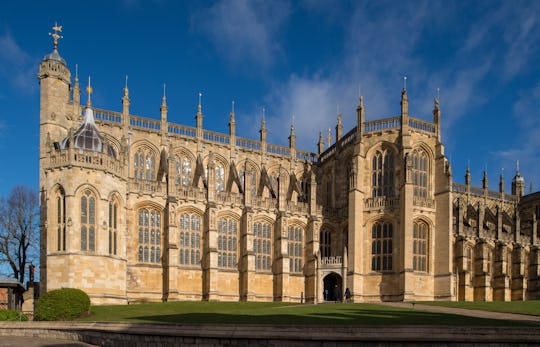 WPA Pool/Getty Images Entertainment/Getty Images
Meghan Markle & Prince Harry Are Getting Married In A Castle Fit For Royalty, Naturally
It's hard to believe we are mere days away from the magical wedding of American actress/philanthropist Meghan Markle and Prince Harry. On Saturday, May 19, royal watchers finally, finally get to see all the details; Markle's dress, who she chooses as bridesmaids, whether or not little Prince George and Princess Charlotte will be part of the ceremony... all will be revealed. And then of course, there's the fairy tale venue. People who are curious as to whether or not Meghan Markle and Prince Harry are getting married in the same church as Prince William and Kate Middleton might be surprised, but they most definitely won't be disappointed.
Kate Middleton and Prince William were married in April, 2011 at Westminster Abbey in London. Their wedding was a real occasion for pomp and circumstance, befitting William's role as the future King of England (he is second in line for the British monarchy after his father, Prince Charles). Westminster Abbey is an ancient church, built in 1245 by King Henry III. It has hosted the coronation of every British sovereign since William the Conqueror, including William's own grandmother, Queen Elizabeth II. Westminster Abbey is also the burial ground of former sovereigns and famous British subjects like Sir Isaac Newton and Geoffrey Chaucer, and was designated a UNESCO World Heritage site in 1987.
In other words, Westminster Abbey was a serious place for a serious British royal wedding to take place.
None of which appears to be in keeping with Prince Harry and Meghan Markle.
After Markle and Prince Harry announced their engagement on November 27, 2017 it was speculated that this couple would also get married at Westminster Abbey. However, a press release from Kensington Palace quickly put that rumor to rest.
According to Kensington Palace, the couple were granted permission from Queen Elizabeth to be married at St. George's Chapel at Windsor Castle, which sits about 23km outside of London. While smaller in scale than Westminster Abbey, don't let that whole "chapel" thing confuse you; it's still enormous. St. George's Chapel, which was built in 1528, seats a full 800 guests while Westminster Abbey seats 2,000 people. The chapel reportedly holds a special significance for Prince Harry, as his spokesperson explained to People:
Windsor is a very special place for Prince Harry, and he and Ms. Markle have regularly spent time there during the last year. They are delighted that the beautiful grounds of Windsor Castle will be where they begin their lives as a married couple.
One of the reasons why Prince Harry might be so fond of St. George's Chapel was a personal connection to the last wedding held there; his father Prince Charles married Camilla Parker Bowles there in 2005.
Prince Harry and Meghan Markle are carving their own path when it comes to their wedding, but in a way that's still sort of gentle and respectful. Markle has reportedly chosen a new flavor for the traditional wedding cake (formerly fruit cake for all of the royal weddings, but she's going with a lemon elderflower cake that sounds divine), and possibly adding a few of her own favorite flowers, peonies, to her bridal bouquet instead of sticking with the traditional all-white royal flower arrangement.
So too it is with their wedding venue. As a Kensington Palace spokesperson explained to journalists, according to Harper's Bazaar:
It will be a moment of fun and joy that will reflect the character of the bride and groom. The couple of course want the day to be a special, celebratory moment for their friends and family. They also want the day to be shaped so as to allow members of the public to feel part of the celebrations too and are currently working through ideas for how this might be achieved.
There have been other royal weddings at St. George's Chapel in the past, but I doubt will see another like the wedding of Prince Harry and Meghan Markle in our lifetime.
So let's embrace it, shall we?