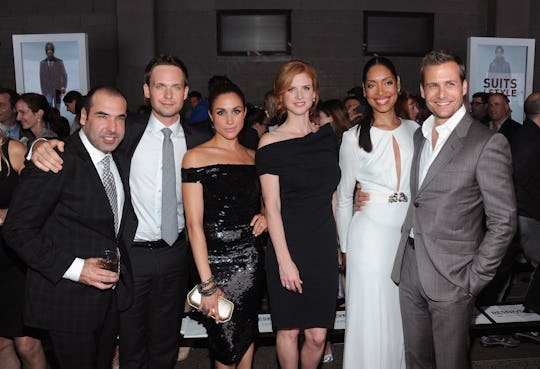 Jamie McCarthy/Getty Images Entertainment/Getty Images
Are Meghan Markle's 'Suit's Co-Stars Attending The Royal Wedding? They're Not Talking
If there's one thing I don't want to see on May 19, or as it's written on my calendar: "the day Meghan Markle marries", it's drama. The American actress/philanthropist is having a bit of a time dealing with her family just days before her historic wedding, and honestly I just really hope her day goes off without a hitch. Fortunately, Markle appears to have surrounded herself with some pretty good people beyond the few frustrating family members. It looks as though Markle's Suits co-stars will be at the royal wedding... not that they're saying a word about it to anyone. Instead, a few of them are letting their crafty Instagram pics do the talking for them while not being disloyal to their friend, the future princess.
Markle spent seven seasons on the USA legal drama, which was filmed in Toronto, Canada. She played Rachel Zane, a real sweetheart who starts out as a paralegal before making her way up the ranks and eventually getting engaged to junior partner Mike Ross (played by Patrick J. Adams). Her final episode on Suits saw Rachel get married, which sort of felt like a fairly tepid preview for the royal hoopla we are all waking up incredibly early to watch on Saturday.
Lucky for Meghan, it seems as if she won't have to worry about walking down the aisle without the support of her Suits family, even if her own family is causing something of a headache.
Markle's friend and former co-star, Sarah Rafferty (who plays Donna Paulsen), has arrived in Paris, France, according to her Instagram feed, which is just a hop, skip, and a jump away from Windsor Castle where Markle will marry Prince Harry, all things being equal. It's no big surprise that Rafferty would be in attendance; after all, Markle has referred to Rafferty as her "Suits sister wife" and there were even rumors that Rafferty could be a bridesmaid before Markle shot that theory down by confirming she would only be having children in her bridal party.
Gabriel Macht, who plays Markle's boss, Harvey Specter, on Suits, was also in London, England as of Sunday. His wife, Jacinda Barrett, who also starred on Suits as Zoe Lawford, shared a sweet pic of her son giving her a sweet little kiss for Mother's Day in front of Buckingham Palace. Barrett captioned the picture:
Kissing in front of the Queen. Happy Mother's Day to my Mum and all the extraordinary Mums around the world and to my angels for all of it. #thankyou#bestjobever.
There is still no word about whether or not Patrick Adams, Markle's TV husband, or another of her good friends and co-stars, Gina Torres, have landed across the pond -- but that appears to be the way the Suits cast rolls. They're not exploiting their friendship with Markle or shouting about their invitations from the rooftops, which proves they are true friends. The cast simply arrived in Europe and are (potentially) preparing to celebrate their friend's wedding. Hopefully get a slice of that delicious-sounding lemon elderflower wedding cake, too! Oh, and we're sure they'll look especially dashing in their fascinators and morning suits.
Everyone knows that Markle has been going through some uncomfortable family stuff prior to the wedding; her father, Thomas Markle, wasn't going to walk his daughter down the aisle -- and then he changed his mind. Meanwhile, her half siblings seem to be taking every opportunity they can to get in the news in the most uncomfortable, cringe-worthy ways possible.
That being said, it's great to see that she has a true-blue, lovely group of friends who want nothing more than to celebrate with her, no strings attached. No drama attached. It makes me happy for her... and hopeful that her wedding day will indeed be drama-free.