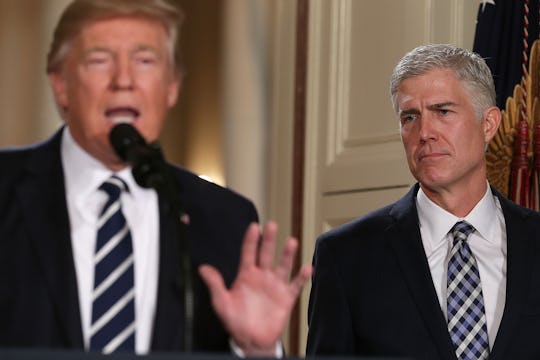 Alex Wong/Getty Images News/Getty Images
Are Neil Gorsuch & President Trump Friends?
It came as no surprise to political pundits when President Trump nominated a staunchly conservative judge to fill former Justice Antonin Scalia's seat in the Supreme Court on Tuesday. Anyone who was hoping Trump might pick a liberal-minded judge must not have been reading the news in recent months. While Trump initially had a list of 21 names to choose from, he whittled that list down to one; Colorado Judge Neil Gorsuch. Why Gorsuch, you ask? Are Gorsuch and Trump friends (as seems to be the case with so many of his appointments)? Not really; Gorsuch looks to be a purely political choice for the Supreme Court.
Gorsuch has been a sitting judge in the U.S. 10th Circuit Court of Appeals in Denver since former President George W. Bush nominated him to replace Judge David M. Ebel in 2006. He was educated at Columbia, Harvard, and Oxford Universities, a talented writer, and a teacher. His mother, Anne Gorsuch Burford, was the first woman to sit at the head of the Environmental Protection Agency during the Reagan administration. She was asked to resign in 1983 under a cloud of toxic-waste controversy. While his mother's appointment had a lasting impact on the country, if Gorsuch is appointed to take over the ninth vacant seat on the Supreme Court, the impact of his choices could resonate for decades to come. A Supreme Court justice holds their position until death or retirement, which, in the case of 49-year-old Gorsuch, could mean as many as 40 years on the bench.
Trump reportedly chose Gorsuch to take over Justice Scalia's seat not because of any personal ties, but because of his popularity with conservative groups, his youth (which could mean that the impact of a Trump presidency would be felt far into the future), and his past rulings — in particular Gorsuch's history of ruling against government overreach. In 2014, Gorsuch ruled in favor of Hobby Lobby when that company did not want to provide contraception to its employees under the Affordable Care Act due to its owners' religious beliefs. This is in line with Trump's efforts to reduce government involvement in businesses.
According to The Washington Post, when Judge Gorsuch accepted the nomination at the White House on Tuesday night, he said:
Standing here in a house of history, and acutely aware of my own imperfections, I pledge that if I am confirmed I will do all my powers permit to be a faithful servant of the Constitution and laws of this great country.
As Senate Democrats move towards a possible filibuster of his nomination in response to the 10-month long Republican stonewall of former President Obama's Supreme Court nominee Merrick Garland, Gorsuch may be waiting to be confirmed for a considerable amount of time. Trump expressed his hope that Republicans and Democrats would "come together" to get behind his nominee, but that great divide doesn't look to be healed any time soon.