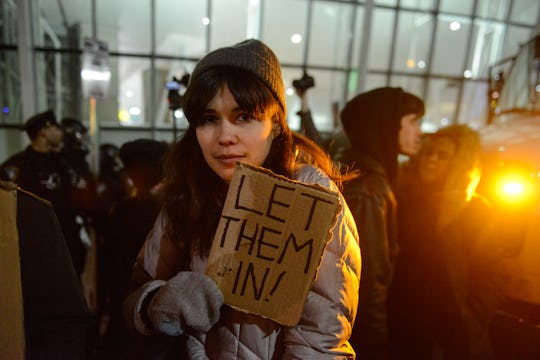 Stephanie Keith/Getty Images News/Getty Images
Airport Detainments Show The Worst Of America
Hundreds who converged on New York City's John F. Kennedy International Airport for an impromptu protest Saturday had an emphatic message for Donald Trump and the mostly Muslim travelers he's decreed are no longer permitted to enter the country. "No hate, no fear, refugees are welcome here," they chanted, joining voices with demonstrators at airports across the country rising up against the president's executive order to temporarily ban refugees, as well as immigrants from seven Muslim-majority countries, from the United States. Even legal residents endured several hours of questioning when their flights landed before a federal judge ruled that the travelers identified in Trump's executive order could not be deported — but are people still being detained at airports? Despite this win, the Department of Homeland Security is still committed to enforcing the so-called Muslim ban.
Trump signed the executive order temporarily closing the borders of the "Land of the Free" to visa-holders from Syria, Yemen, Sudan, Somalia, Iraq, Iran, and Libya Friday. This meant that some travelers' status changed while they were en route to New York or Seattle or Washington, D.C, or San Francisco. Deportation became a very real threat for jet-lagged new arrivals, whose worlds had catapulted into tumult while they were in the air. For the protesters on the ground, it was an excruciating affront to the integrity of the United States of America. For those landing in an unwelcoming country, it was a repudiation of what the United States purports to stand for.
According to ABC News, the widespread chaos and confusion surrounding Trump's order — implemented under the guise of preventing Islamic terrorism — affected 375 travelers in some way. Of those, 109 people were denied entry to the country after landing here. Iranian green card holder Hessan Noorian and other legal residents like him were subjected to hours of interrogation before being released. Noorian had landed at Chicago's O'Hare International Airport along with his wife, Amiresefat, and newborn son, both U.S. citizens, from a trip to Tehran to introduce the baby to relatives when he was detained. Amirisefat insisted on staying with him. "I was scared," she told The Chicago Tribune. "I didn't know what was going to happen to him, if they would send him back. I wasn't going to leave him to go through that alone."
Critics of the Trump administration's latest move insist that it amounts to a fulfilling of the then-candidate's campaign promise to ban Muslims from entering the country. While the new president insists that he intends to halt the admission of refugees from these Muslim-majority countries only until he can strengthen vetting measures, the logic crumbles with the realization that this country has long employed such safeguards. Further, no immigrant from the identified countries has ever carried out a fatal terror attack on U.S. soil, some Muslim-majority countries where Trump maintains business ties are exempt from the ban, and his order prioritizes Christian immigration — strong indicators that Muslims are the targets of religious discrimination, not a sweeping effort to keep Americans safe. (In the latter case, even some Christian refugees have been turned away at the airport as well, according to various outlets, including CNN.)
Still, the Department of Homeland Security — which did not have the opportunity to offer input during the drafting of the order — is defending Trump's order, confirming in a press release Sunday that "prohibited travel will remain prohibited, and the U.S. government retains its right to revoke visas at any time if required for national security or public safety." This may or may not mean continued detainment, though. While the first wave of arrivals after the ban went into effect were already on planes bound for the United States when their standing changed, it stands to reason that others seeking to return to the country or touch down here for the first time won't be permitted to board their flights in foreign airports in the first place.
The two Iraqi nationals detained at New York's JFK airport who sued alongside the American Civil Liberties Union and ultimately were granted the stay on deportations that extended to the more than 100 others in the same situation made important headway in fighting the new directives. It didn't happen in time for the Syrian family of six who, upon arrival to Philadelphia, were sent back to Qatar, as CNN reported, though.
As activist and civil rights groups continue to fight the ban, the newly stripped rights of refugees and immigrants will evolve and, if the promise of America as a safe haven prevails, hopefully be restored.