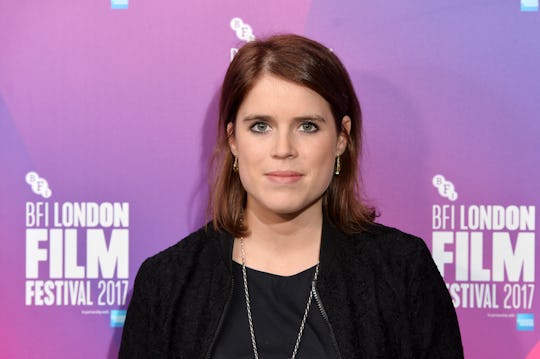 Jeff Spicer/Getty Images Entertainment/Getty Images
Here's Why Princess Eugenie & Meghan Markle Are Destined To Be Friends
Here's the thing; I really need all of the royal women to be friends with each other. I need to be able to imagine them getting together for a glass of wine and watching Downton Abbey reruns and laughing at the silly gossip written about them in the news. All of this Kate Middleton vs. Meghan Markle or Princess Eugenie vs. Meghan Markle nonsense is troublesome, I think. Especially since one particular woman seems to be getting the brunt of it. As the next royal wedding is about to begin, the real question is are Princess Eugenie and Meghan Markle friends? Because the youngest daughter of the Duke and Duchess of York is clearly pretty solid in her relationship with fiance Jack Brooksbank, so that's settled.
Of course, the royal family tends to stay pretty tight-lipped about their personal lives. Which means the rest of us have to sort of do a little sleuthing of our own to figure out what might be going on behind the castle gates. Considering neither Princess Eugenie nor Meghan Markle have issued an official statement declaring they are best friends (along with Eugenie's older sister Beatrice and Meghan Markle's sister-in-law Kate Middleton, obviously), we can't know for sure.
But we can try to figure it out together based on things the two women have in common. And so we shall.
That Perfect Wedding Venue
Now I understand that not everyone who gets married at the same church is going to become the best of friends. The notion is a bit ridiculous. But St. George's Chapel at Windsor Castle, where Meghan Markle married Prince Harry in May and where Princess Eugenie will marry Jack Brooksbank on Oct. 12, is pretty special. I can only assume the two women have gotten together to chat about their choice of florist, wedding dresses, etc. Getting married within a few months of each other within the same family seems like a serious bonding experience.
An American In London/A Brit In America
The whole world is well aware that Meghan Markle, a former actress, was raised in California. But did you know that Princess Eugenie recently lived and worked in New York City after graduating from Newcastle University? She moved there to work as a benefits auction manager for online auction firm Paddle8, and only moved back in 2016. So the two have living and working across the pond in common, living normal lives as regular folk. Something that the other royals might not understand as well.
All About Those Dogs
If there's one thing a dog lover loves more than dogs, it's someone else who loves dogs. And both of these women are dog lovers; Markle and Prince Harry just adopted a new dog to join her rescue pup from America, a beagle named Guy. As for Princess Eugenie... not only is she a fan of the York family dogs, but she has a dog herself who is called Jack. Just like her fiance. A happy accident, and one I'm sure she and Meghan Markle laugh over every chance they get.
A Husband Bromance
Now here's the real key to a blossoming friendship between Princess Eugenie and Meghan Markle; their husbands have been friends for years. In fact, Princess Eugenie met Brooksbank in 2010 after he was already a good friend of Prince Harry's, according to Harper's Bazaar. Which means they can go out on couple dates together and be friends forever.
Exotic Getaways With Their Fellas
Prince Harry took Meghan Markle to Botswana when they were newly dating, and this is where they apparently fell in love, according to Town and Country. Sleeping out under the stars without the whole world bothering them. And when it was time for Brooksbank to propose after dating Princess Eugenie for seven years, he chose a remote lake and a volcano in Nicaragua as the sun was setting. In other words, these girls know how to do romance with their fellas.
I'm sorry, but all the evidence is there. These two are well on their way to being best friends.