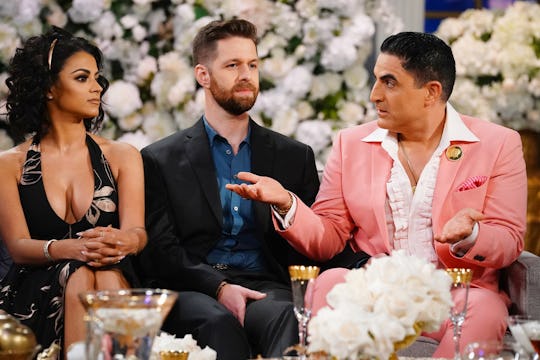 Nicole Weingart/Bravo
Reza & Adam Had Some Marital Problems After 'Shahs Of Sunset'
Reza Farahan has been part of Shahs of Sunset since the beginning, and plenty of viewers became fans of his and husband Adam Farahan's love story. It wasn't always easy for them, especially after Reza called off their initial engagement, but after their intimate wedding ceremony in 2015, they seemed to be the steadiest couple on the show. Now, fans may be wondering, are Reza and Adam still together after Shahs of Sunset? Season 7 was mostly Golnesa "GG" Gharachedaghi, Nema Vand, and Mercedes Javid heavy, so there weren't many peeks into Reza's personal life. Some fans wondered if this meant things were on a downward spiral for Reza and Adam, but the opposite seems to be true.
In a video posted on the Bravo website in August, Reza assured fans, "Adam and I are happier than we've ever been" and revealed some major future plans.
"Adam and I are building a house," he said in the video. "Which means baby time soon. We're gonna be looking at eggs, shopping for eggs… I don't know how the process is gonna work, but I know it's really really expensive. Timeline-wise, we had decided, Adam and I, that once we were done with the house and once we were all moved in, we would start the baby making process."
He added that Adam seemed eager to push up the timeline and potentially get the ball rolling sooner than they'd originally planned. I'd say that building a house together and working on having a baby means that Adam and Reza are as happy as he says they are. And as someone who watches Shahs of Sunset mostly for Reza, that warms my heart.
Most of the concern over Reza and Adam's marriage came from fans after watching the Shahs of Sunset Season 7 reunion. Among rehashing the season's highs and lows, Reza revealed that at one point in their marriage, he asked Adam for a divorce. I know — blasphemy. Adam explained during Part 1 of the reunion, "[Reza] wasn't feeling appreciated, and I was so focused on myself and doing work that I forgot that I have a husband and he needs attention as well... I wasn't giving that to him, and I also wasn't acknowledging the amazing things that he was doing for both of us."
Reza said that despite communication issues, they did seek counseling and are determined to try harder to make their marriage work before throwing in the towel. And judging by Instagram, it does seem like Adam and Reza are stronger than they may have been before the reunion was filmed.
In August, Reza posted a photo of Adam with a friend's toddler and captioned it, "My sweet husband... "practicing" with our friend's beautiful son! Homeboy is ready for fatherhood, BIG TIME!" And In November, Adam posted a photo of what looks like a lady bug tie pin with a love note that Reza unexpectedly left in his drawer as a surprise. Despite some hiccups in their marriage, Reza and Adam are clearly working on whatever issues they have and planning to come out stronger together.
Although neither have announced that they do have a baby on the way, in August, Reza told Bravo that at the time, he was getting ready to "spend a fortune to make a kid." They may have gone through a rough patch off-screen, but it seems like their marriage is on the right path. It might not be long before Shahs of Sunset introduces a new pint-sized cast member and I can't wait to see Reza as the adorably doting dad everyone knows he's going to be.
This first-time mom wants to have a home birth, but is she ready? Watch how a doula supports a military mom who's determined to have a home birth in Episode One of Romper's Doula Diaries, Season Two, below. Visit Bustle Digital Group's YouTube page for the next three episodes, launching every Monday starting November 26.