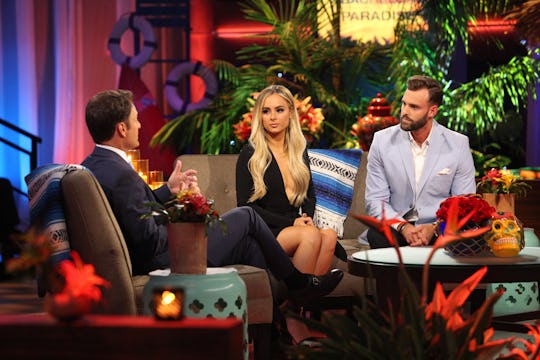 Paul Hebert/ABC
Robby & Amanda's 'Paradise' Romance Has Faced Some Obstacles
Summer has slipped away, as it always does, and the finale of Bachelor in Paradise is nigh. Like all the shows in the Bachelor franchise, it ends with the potential for an engagement. Unlike the other shows, though, Paradise has the potential for multiple engagements. Yes, the remaining couples have the choice whether they want to propose or cut it off there. As the finale draws near, viewers are probably wondering which couples are going to make it. So are Robby and Amanda engaged after Bachelor in Paradise? It took Amanda awhile to warm up to him before really allowing their relationship to grow.
As Bachelor Nation knows, this isn't Amanda's first time at the Paradise rodeo. As a mother-of-two she first appeared on the franchise on Ben's season of The Bachelor, and then last season of Bachelor in Paradise. It was there that she started a relationship with Josh Murray (and, by extension, with pizza) — and the two actually got engaged. Soon after, though, they broke up. Amanda said that the two weren't compatible outside the show. She told Us Weekly post-breakup, "It's really hard, I think, to move on from that. I think we're both having a hard time moving on." Well, it couldn't be too hard of a time, because Amanda tried her luck again on Paradise this season.
Amanda and Robby's relationship was rocky from the start, to say the least. Robby had to do some convincing to get Amanda to even kiss him. "I wasn't interested in him at all and I was off limits to him because he's friends with Josh," Amanda told Us Weekly. She continued, "We just kind of talked a little bit during the break and we just kind of enjoyed talking to each other I think." Throughout the episodes, they grew closer.
So, do the pair agree that they're the loves of each others' lives? Not exactly. Amanda broke the news shortly before the Bachelor in Paradise finale that she and Robby have broken up. Amanda said she doesn't know how Robby's been handling it (ouch), and there are rumors that he cheated on her. (Romper reached out to Robby for comment, but has yet to hear back.) For now, then, Amanda remains single; whether she's done with the franchise for good is still up in the air, but it's safe to say that she won't be walking away from the Season 4 BIP finale with a ring on her finger.
Check out Romper's new video series, Romper's Doula Diaries: