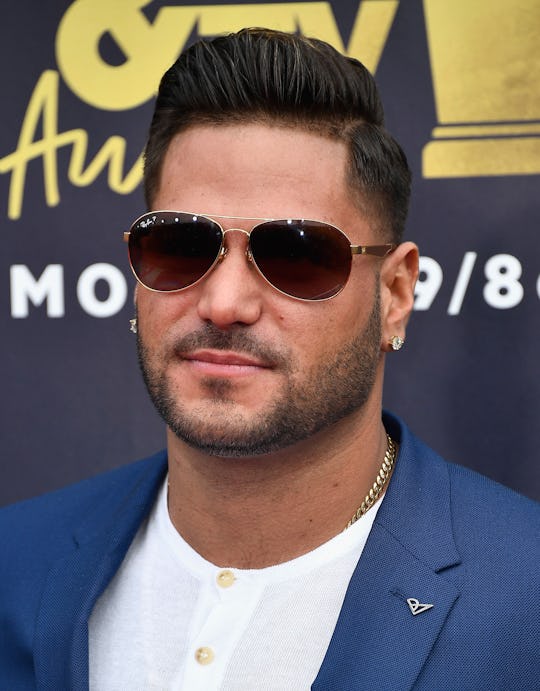 Frazer Harrison/Getty Images Entertainment/Getty Images
Ron & Jen Harley Have Had Some Major Drama On 'Jersey Shore Family Vacation'
Thanks to social media, most fans knew that Ronnie Magro and his girlfriend, Jen Harley were having big problems before they watched some of it go down on Season 2 of Jersey Shore Family Vacation. Now that some time has passed, though, you might wonder if Ronnie and Jen Harley are still broken up. The Jersey Shore Family Vacation star hasn't had an easy go of it with his relationship with his daughter's mom. Since that big fight — that the two individually broadcast on social media — it looks like they've continued to have their ups and downs.
Ron and Jen are becoming known for their Instagram fights and oversharing, even though they typically get back together not long after their disagreements. Fans saw firsthand the fallout and details of first big fight between the two on the Season 2 premiere of Family Vacation. But as of now, it appears that they've have found their way back to each other once again. As recently as August 16, Ron and Jen posted about a Puerto Rico family vacation with their daughter, Ariana Magro. So for the moment, it would seem that the pair have made amends. But considering their history, fans are probably a little skeptical that the pair will make it in the long run.
After Ron and Jen's big social media fight in April shortly after the birth of their daughter, it wasn't long before they allegedly had another blowout. In May, a source close to the couple told Us Weekly that Jen and Ron had broken up again. "They had a big fight the other day and are done… for now," the source told the media outlet. "It's going to keep changing every day."
Then in June, Jen was arrested on charges of domestic battery after the pair got into yet another public altercation. E! News reported that Jen and Ron's June fight was sparked by the death of their dog and only escalated from there. They'd allegedly gotten into a physical fight at a Planet Hollywood and after police arrived, they determined that Jen had been the aggressor in the situation. Although Jen was arrested, authorities told E! News that Ron didn't press charges at the time. For her part, Jen denied that accusations. "I did not hit him, I did not punch him," she said to People. "It was all recorded." Not long after, the couple made up again.
Ron and Jen's relationship was tested once more a few weeks later, when Jen allegedly hit Ron in the face while on the way home from a barbeque at a friend's house. According to TMZ, when Ronnie attempted to get out of the car, Jen allegedly kept driving, which reportedly resulted in more minor injuries for the Family Vacation star. You definitely can't say that they aren't consistent in their fighting. But right now, it looks like Ron and Jen are in an "on again" phase of their seemingly continuous on again/off again cycle.
Ron said more than once on the Season 2 premiere of Family Vacation that, because of the birth of their daughter, he wanted to try and make things work with Jen. In another scene, she said that she's on edge because of their April social media fight. So things definitely didn't appear to be easy for them at the time. Although they may have still had some issues, both in public and in private, since filming ended, it looks like they're trying to make things work right now.
It's hard to say what the endgame is for Jen and Ron at this point. But one thing is for sure — their daughter Ariana is surrounded by love, both from her parents and from the entire group of Macaroni Rascals.