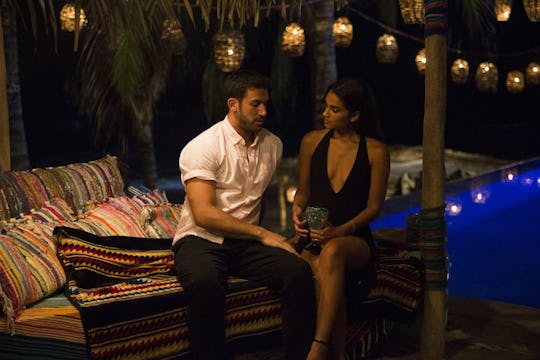 Paul Hebert/ABC
'Paradise' Couple Taylor Nolan & Derek Peth Are Reportedly Tying The Knot
For all it's drama, Bachelor in Paradise actually has a pretty decent track record for creating real relationships. In four seasons, the show has produced at least two solid relationships, Jade and Tanner and Carly and Evan. But could they be adding another to the roster in the form of current Paradise couple Taylor and Derek? Some sources are reporting to Us Weekly that Derek has proposed. So are Taylor Nolan and Derek Peth engaged after Bachelor in Paradise? There could very well be a wedding in their future.
From the very beginning of the season, Derek and Taylor were one of the strongest couples at the resort. After the investigation into the alleged sexual misconduct scandal came to a close and production on the season resumed, Derek and Taylor decided to return to Paradise and see if there was something real there in their relationship. In fact, the only real issue between them came during an argument in which Derek became annoyed and told her "f*ck you!" Though Taylor was hurt by the comment, the two talked about it and came to a resolution, with Derek apologizing for his actions. As anyone who's ever been in a relationship can testify, it's all about communicating with each other and being able to get over fights like this.
According to an Us Weekly source, this reported engagement comes as a big surprise to many (though I'd say fans won't exactly be shocked to hear this news, given how close the duo has become). "No one knew Derek was going to propose," the source claimed. "He gave her a Neil Lane ring." Of course he gave her a Neil Lane ring. What kind of Bachelor Nation contestant would Derek be if he went rogue and got her something from Tiffany's or something vintage? As everyone who has ever watched a Bachelor show knows, it is always, always, always Neil Lane.
As of right now, neither Taylor nor Derek have confirmed the engagement on their social media platforms. Obviously, this means that I cannot confirm their engagement either. But I really would like it to be true. Weddings are generally happy. And if they are indeed engaged, then there is a good chance that they will televise their wedding next year on Bachelor in Paradise and it will be officiated by Chris Harrison as all weddings truly should be. For more news on this, fans will all just have to sit tight and wait for the two of them themselves to confirm whether or not they're going to tie the knot on a certain resort in Mexico. In the meantime, Mazel Tov to the happy couple!