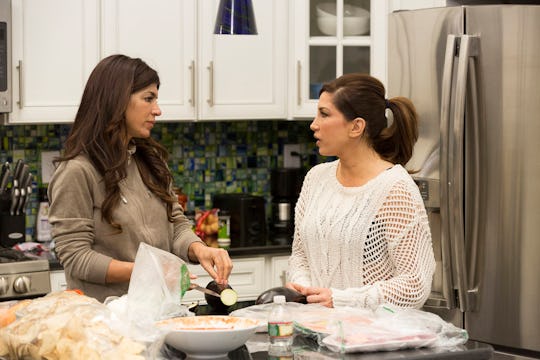 Greg Endries/Bravo
Are Teresa & Jacqueline Friends On 'Real Housewives'? The Show Paints A Confusing Picture
Real Housewives of New Jersey's seventh season is underway, and there's plenty of kindling to fuel this year's fire. First, the season kicks off with Teresa Giudice's return from prison. The show is tracking her transition back to home life while simultaneously focusing on the family's preparations to send Joe away so he can serve out his sentence. Jacqueline Laurita is also back as a regular cast member after taking a brief time-out to focus on her son's autism diagnosis. So are Teresa and Jacqueline friends now? The Season 7 setup seems to want us to believe they are, but whether or not they're truly getting along is a different story.
A deep rift was caused between the two when dueling RHONJ factions declared war on each other — both on-screen and off. Teresa remained friends with Dina Manzo, who wound up estranged from her sister Caroline over her continued friendship with Teresa. Caroline and Jacqueline are also sisters-in-law, and Jacqueline took family matriarch Caroline's side in the feud. Caroline and Jacqueline both left the show at the same time that Dina rejoined it and the series began to focus heavily on the Giudice family.
So Jacqueline and Teresa were not on the best of terms before Season 7 began filming. We saw Teresa send a letter to Jacqueline from prison in the season premiere, but Jacqueline was mostly confused by the gesture. In the trailer and other promotional interviews for the show, we see Teresa and Jacqueline attempting to strike up a friendship again.
"Surprisingly, it felt like old times. It felt like seeing somebody alive after a war," Jacqueline told Bravo's The Daily Dish of seeing Teresa after her release. "It felt more comfortable than I thought it was gonna be."
But then we also see the two fighting pretty bitterly in the Season 7 trailer, with Teresa comparing Jacqueline to Osama Bin Laden. Reports have surfaced of rumors that Jacqueline walked off the group trip to Vermont after a fight with Teresa. Back in February, Jacqueline said of their friendship this season on Watch What Happens Live:
"It's been a roller coaster at times, but we're trying to get back on track and stay on track because there's a history there, you fight harder. It has more meaning when you have history. It's like when you have family. I feel like she was my sister, and we've had falling outs. It's like the work we're both putting in trying to repair the damage that's been done. And so it's not always easy."
However, since the show has premiered, the two have been sniping at each other on Twitter, so it seems as though the attempted reconciliation was sort of a flop.