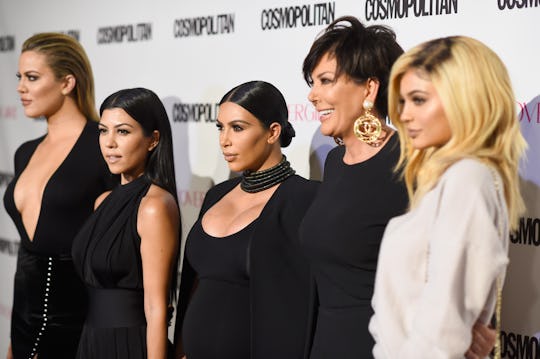 Frazer Harrison/Getty Images Entertainment/Getty Images
Khloé Just Shut Down Kardashian Sister Feud Rumors With One Tweet
Ever since Khloé Kardashian welcomed her baby girl in Cleveland the girl has been beset by rumors. About her relationship with boyfriend Tristan Thompson, about her post-baby body (because yes, this is apparently still a thing people do) and about her famous family. Especially her sisters. There's something about the Kardashian/Jenner family that seems to make people want to find a chink in their unified front, and lately Khloé has been seen as the one sister who might not be odd woman out. Well, Khloé Kardashian's tweet about her sisters on Saturday might end those feud rumors once and for all. Probably not, but it could happen.
The Good American designer welcomed baby girl True Thompson with her Cleveland Cavaliers player boyfriend on April 12. Two of her sisters were reportedly in the room with her, Kourtney Kardashian and Kim Kardashian-West, and of course the ever-stalwart momager Kris Jenner was on hand as well. Despite the fact that these women all flew into Cleveland to be with Khloé for the birth of her baby (and Kim even tweeted that she held her sister's leg while she gave birth), almost immediately afterwards the rumors began. Rumors especially focused on the belief that the family was not impressed with Tristan, who was allegedly caught cheating on the Revenge Body host days before she gave birth.
Thompson's and Kardashian's reps didn't immediately respond to Romper's request for comment.
Well, it looks like those rumors might not be correct.
On Saturday Khloé wrote on Twitter:
I have the best sisters in the world! I feel so blessed! Built in besties!! I love you guys!!
Even brother Rob Kardashian, who fans of Keeping Up With The Kardashians know is especially close to sister Khloé, got a little shout out:
Rob, you're already my ACE for life!!
The tweet came after Khloé shared a video on Snapchat of herself with the song "Delicate" by Taylor Swift in the background. For those of you who might not know, Kim Kardashian-West and her husband, rapper Kanye West, have a pretty fractured relationship with Swift, and some people saw this as a calculated diss against the couple.
Not that I want to feed that old rumor mill or anything, but I can see why fans might think Khloé and Kim are fighting; on May 1, the KKW mogul spoke to Ellen DeGeneres on Ellen about the Tristan cheating scandal. She managed to make it patently clear that she was upset about it without really coming out and saying anything, and there was a bit of a backlash; after the interview, Tristan reportedly stopped following her on social media. Which is sort of fair, considering the entire family stopped following him after the alleged cheating incident.
Despite those signs of possible tension, the Kardashian/Jenner family seem to be sticking together. And Khloé's tweet praising her sisters is yet another sign that, no matter how things might look on the outside, that whole family has each other's backs. Plus, she made it clear that she's super into her brother-in-law Kanye's new album Ye with a follow up tweet:
Things have been undeniably tough for Khloé lately; she has her first baby far away from her family amidst a humiliating cheating scandal that is taking far too much attention away from her first weeks as a mom. But it looks like things might change pretty drastically for her soon, if Kris Jenner is to be believed; during a red carpet event on Thursday, the momager told Us Weekly that Khloé was coming back to Los Angeles. When she was asked if she would be coming back to live, Jenner said, "I think so! Yes!"
And you know what this means, don't you? More time for the KarJenner sisters to hang out together with their babies and bond. Because no matter what else might happen, that's always going to be a constant in their lives.