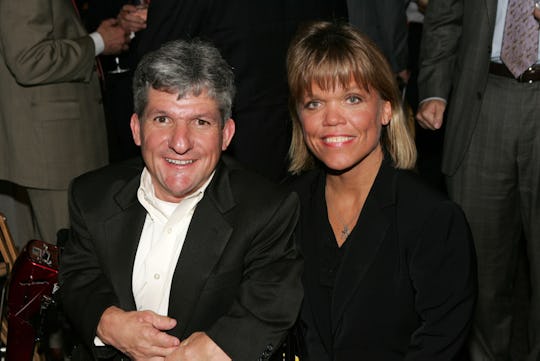 Thos Robinson/Getty Images Entertainment/Getty Images
Here's What We Know About The Roloffs' Conservative Beliefs
The Roloff family from TLC's Little People, Big World have seen their share of controversy over the past few years. There was Amy and Matt Roloff's divorce after 27 years of marriage, and youngest son Jacob's questionable behavior since exiting the show. In fact, there's been a significant amount of questionable behavior, and questions about said behavior along the way. Are the Roloffs conservative, for instance, and if they do consider themselves conservative, what does that mean to them as a family? After all, conservative can mean a whole lot of different things to a whole lot of people.
The Roloff family, which now includes Jeremy's wife Audrey (and baby Ember) and Zach's wife Tori (and baby Jackson), have been a mainstay on TLC since 2006. That's 12 years of watching Amy and Matt Roloff raise their brood of four kids, and watch Jeremy, Zach, Molly, and Jacob grow into adults. From the outset of the show, the Roloff family was just about as wholesome as a family could be. I mean, they live on a pumpkin farm in Oregon, for pete's sake. But that doesn't necessarily mean the family is as wholesome as the pumpkins they grow. Unfortunately, it looks as though there might be some deep-seated, ultra-conservative views lurking beneath the surface.
Audrey's Anti-Gay Post
Back in 2016, Audrey wrote a blog post for Roloff-affiliated fan site Spirits Wander about same-sex marriage; and how neither she nor Jeremy support it. In the blog post, which has since been removed, Audrey reportedly wrote, according to Radar Online:
We are for opposite-sex marriages that are striving to give more than average to their marriages. To live out the covenant of marriage every day, and to center their marriage around Christ. That being said, know that our content is not written to same-sex marriages, so to say that we don't offer advice for that side is accurate.
Audrey did not immediately respond to Romper's request for comment.
Fans were naturally disheartened by Audrey's comments, although she has reportedly chosen not to retract them. In fact, she sort of doubled down by openly supporting Lisa Bevere, the wife of vocal same-sex marriage opponent, Messenger International minister and author John Bevere. Audrey shared a picture of Bevere and herself on Instagram at the Cultivate Conference in 2016.
Audrey and Jeremy are perhaps the most outspoken members of the Roloff family when it comes to religion; the couple share a website called Beating 50 Percent about successfully navigating covenant marriages (which are marriages with God at the center).
Matt's Trump Rants
The Roloff family has managed to keep their political views mostly out of the news with a few notable exceptions. One of which is family patriarch Matt Roloff, who took to Facebook at the end of 2017 to share a Fox News article that seemed to be praising President Trump for his response to ISIS in Iraq. When some fans took issue with his seemingly pro-Trump attitude, Matt hit back in the comment section of Facebook by pointing out:
It's really a shame so many people see something and jump to hatred. One of my favorite news sources (to see if the American media is on the right track) is Al Jazeera news. I also read BBC,cnn, nsnbc Abc etc. forget about the Fox News article that happens to give Trump credit. What about the undisputed facts ? Iraq seems to be getting their country back.
Amy's Anti-Abortion Stance
Amy Roloff has been pretty quiet on the political front, but she had a few things to say about abortion in her 2007 book Little People, Big Values. In the book she discusses her pregnancy with twins Zach and Jeremy, when she was experiencing complications and doctors were weighing the options:
One of the options they talked about was one I found shocking and it was to eliminate… one of the babies before the pregnancy progressed too far. What we knew was that whatever happened, God was going to be with us, that he was going to bless us and protect us through everything. In the end, we were glad we kept our faith.
The Roloff family might not be as overt about their belief system as another well known reality series family on TLC we could mention, but many of their members definitely seem to swing for the conservative side of the fence.