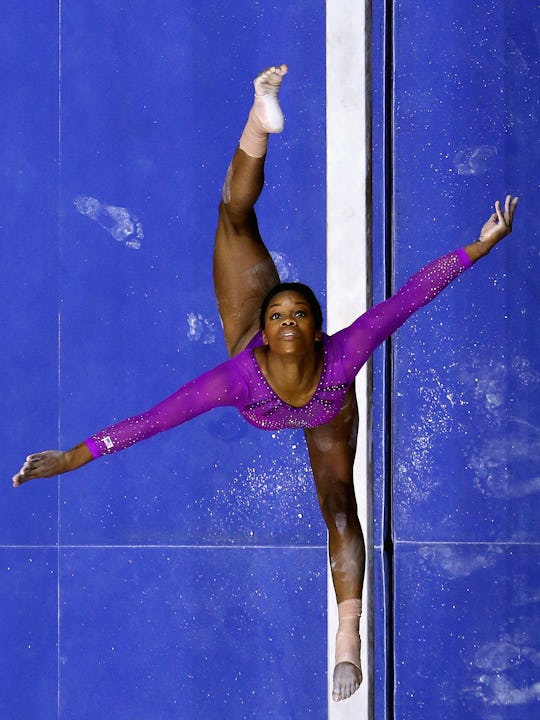 Ronald Martinez/Getty Images Sport/Getty Images
Are There Barbies For Other U.S. Olympic Gymnasts? Not All Of The Fierce 5 Is A 'Shero'
During the 2012 London Olympics, the U.S. women's gymnastic team became everyone's favorite group as the took the gold medal. So much so that Gabby Douglas has had a Barbie doll made in her likeness, but there aren't Barbies for other U.S. gymnasts on the Fierce Five team just yet. Just after qualifying for the 2016 women's gymnastic team, Mattel announced the "Gabby" doll as part of their #YouCanBeAnything line. Douglas is the first African American woman to earn two gold medals, one for the individual all-around event, in Olympic history. So she's earned her status as official role model for teens everywhere.
According to NBC, Douglas was stoked to have her own doll. "It's such an honor to have a Barbie doll made after my own likeness. I don't know, I'm just speechless. I'm still trying to process this," she said. But right now, even if a girl wants to be everything she can be, she can't have the Gabrielle Douglas doll, because it's already slated to be a collector's item without even having been released to stores yet. While she's worth collecting, it's odd that there's no price on the doll or launch date yet. Douglas is part of the "Shero" series, which includes dancer Misty Copeland and director Ava DuVernay.
Lisa McKnight, General Manager and Senior Vice President of Barbie said in a statement that, "playing with Barbie allows girls to imagine everything they can become. While imagining you can be anything is the first step, seeing that you can is what makes all the difference. Role models like Gabby Douglas show girls that with determination and perseverance their potential is limitless."
Douglas said in an official Barbie statement, "I love a challenge. I love to push limits and I love that my very own Barbie celebrates me for being a role model to girls. Being honored as a Barbie Shero further motivates me to inspire girls by being the best I can be."
So there aren't any Barbies of the rest of the Fierce 5, but the Fierce 5 is pretty much broken up — and Gabby Douglas is one of just two, with Aly Raisman, from the original crew returning to the Olympics this summer.
Douglas, as a 20-year-old African American woman is worth her own doll. Her message of confidence, not "being someone else," and generally kicking butt.
This year in Rio, Douglas will join Raisman, Madison Kocian, Simone Biles, and Laurie Hernandez. It's a new group of young women but something tells me they're going to go all the way just the same.