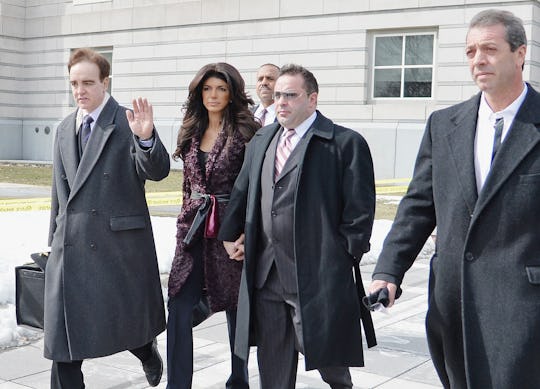 Mike Coppola/Getty Images Entertainment/Getty Images
Are There Photos Of Joe Giudice In Prison? He's Making The Best Of His Time
Things have been bittersweet in the Giudice household on The Real Housewives of New Jersey. Though Teresa's return from prison brought the family back together again for the first time in a year, their reunion was short-lived. Just a few months after Teresa's release, Joe began serving his three-year sentence. That was in March, so by now he's been there a few months. While reports are that things are going well, it's hard not to wish for a glimpse into what's actually going on in Joe's world. He's not about to get a Bravo special any time soon (that will have to wait a few years), but are there photos of Joe Giudice in prison?
In short: no. Joe hasn't been in prison long and is likely still adjusting; he wouldn't really have an opportunity for a photo session even if he was allowed to have them taken. While there are picture days in prison during which an inmate can have a photo taken to be sent back to a loved one, it's anyone's guess whether a photo like that will be taken or made public. Though considering Teresa did allow for some prison pictures to be released, it's probably just a matter of time.
There could be some pictures of Joe in prison down the line, but as of right now there aren't any. The best one can do are the family photos Teresa posted to Instagram right before Joe left.
The family has some experience with the painful process of saying goodbye to a loved one for months because of Teresa, so they appear to be handling this with little fanfare. Joe has described it as "not a big deal" to People before going on to explain that he's going to try and take something good away from the situation.
"I'm looking at it like rehabilitation for me," Joe said. "I am not going to be able to drink for a while which is good because I don't even know when it's been since I haven't had a drink. It's been a long time. Definitely the whole year I definitely drank every day a couple bottles at night just to go to bed."
While it's obviously tough to be apart, Teresa and her family are dealing with it the best they can. So is Joe; he plans to do what he can to reduce his time while making the most of the situation. It's not an ideal situation for anyone to be in, but at least the Giudices have a pragmatic, positive outlook.