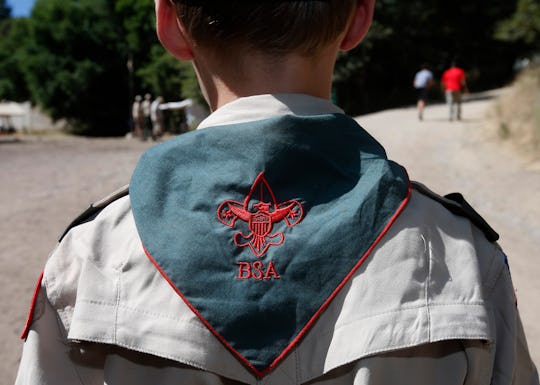 George Frey/Getty Images News/Getty Images
Transgender Boy Barred From Joining Scouts
Finding the right extracurricular activities for kids can be hard. Choosing between magic camp or piano lessons or whatever else you think will suit your child's interests can be a tough (and usually expensive) decision. But joining the Boy or Girl Scouts seems like a no-brainer for some families. Unless your child is brave enough to talk about their gender identity at a young age, as one New Jersey family just found out. Given a recent incident in Secaucus, New Jersey, it appears that transgender kids are barred from joining the Boy Scouts — for now.
This week, 8-year-old Joseph Maldonado was kicked out of Cub Scout troop 87 in Secaucus, New Jersey because his birth certificate lists his gender as female, even though he's identified as a male for over a year. He was allowed to sign up and be a member for a month before other parents complained, according to CBS News.
Romper has reached out to Joseph's mother, Kristie Maldonado, and the local Secaucus, New Jersey Cub Scout Chapter 87 for comment. Boy Scouts of America, the national organization that runs the Cub Scouts, responded via email, writing, "The BSA [Boy Scouts of America] grants youth membership to Cub Scouts to boys in the first through fifth grades, or 7 to 10 years of age. If needed, we defer to the information provided for an individual's birth certificate and their biological sex."
That response, however, may not do much to ease 8-year-old Joseph's social woes, as his gender is listed as female on his birth certificate: Rather, it means he's out of the boys' club. He told CBS that he wanted to be in the troop, "because all of [his] favorite friends are there."
BSA told Romper that they have other options for children like Joseph. "It was brought to our attention that [Joseph] does not meet the eligibility requirements to participate in this program, so Boy Scouts of America (BSA) leadership reached out to the family to inform them and share information on alternative programs. For instance, the BSA also offers co-ed programs through Learning for Life, STEM Scouts (in markets where available) and Venturing, a program for young men and women ages 14-20."
That just isn't going to fly for Joseph or his parents. Getting a gender change on an state or federal documents is hard to come by for transgender adults, let alone an 8-year old. And aside from documents, Joseph doesn't qualify for the alternative Venturing program because of his age. Furthermore, the STEM program, which is geared towards science and math related activities, is available only in certain markets surrounding his hometown. Joseph is lucky to live in North Jersey, where there are many options. Transgender children in other parts of the country might not be so geographically lucky.
In response to the news of Joseph's exclusion from the troop, a Cub Scout troop in the United Kingdom has offered the 8-year-old honorary membership. That's heartwarming and sweet, of course, but Joseph wants to scout with his friends IRL.
The BSA, despite its many positive accolades and admirable projects, is no stranger to controversy. In 2015, the organization was allowed to decide on a case-by-case basis whether or not to allow openly gay children to join local chapters and for openly gay adults to serve as leaders. (The Girl Scouts, by contrast, officially allow anyone who identifies as female to join.)
But being transgender has nothing to do with sexual identity, which is a nuance that seems to be missing from the Boy Scouts mission of inclusivity. According to Fusion, BSA communications director Effie Delimarkos said in a statement to several outlets, "No youth may be removed from any of our programs on the basis of his or her sexual orientation. Gender identity isn't related to sexual orientation."
Stories like Joseph's are exactly why National Geographic put 9-year-old Avery Jackson, a transgender girl, on the cover this month, making her the face of all the sociological issues surrounding gender identity (talk about pressure, right?). Much of the backlash on Joseph's mother's Facebook page is focused on her choice as a parent to "allow" her son to choose his gender. But gender identity, just like sexual orientation, isn't something that a person "chooses." Young children, like Joseph or Avery, are capable of understanding who they are, despite their age. Parents who support that choice are the key to transgender kids leading emotionally healthy lives.
Support from family is essential to a trans person's survival. A recent study by the National Center for Transgender Equality found that transgender people who receive familial support are less likely to experience homelessness, psychological distress, and are less likely to commit suicide. With those stats, it seems to follow that ostracizing children at a young age for their gender identity — whether the person doing the ostracizing is blood or otherwise — can be life-threatening.
But maybe the whole idea of gender segregation in the scouting community is just outdated to begin with. The BSA also told Romper, "Scouting teaches its youth members and adult leaders to be respectful of other people and individual beliefs." For any parent considering enrolling their child in a scouting troop, it might be worth weighing that mission statement against the organization's official stances regarding LGBTQ youth before coming to a final decision.