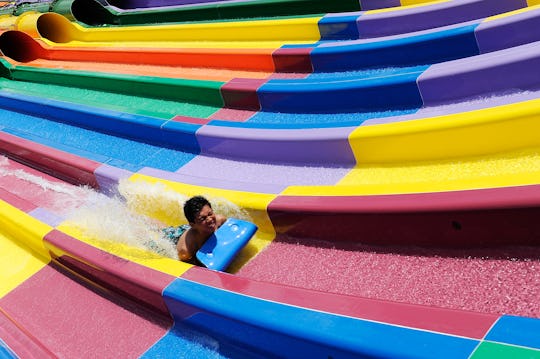 Brett Hemmings/Getty Images News/Getty Images
Are Water Slides Safe For Kids? A Recent Tragedy Has Some Parents Spooked
No parent wants to have to say "no" to their kids in general, but especially when they're asking to do something we all loved ourselves as kids, like hitting the water park on a hot day (especially when you factor in the family bonding time that's bound to happen as you float in inner tubes along a lazy river, swim through the wave pool, or go careening down a water slide). Who wants to say "no" to that request? Sadly, the death of 10-year-old Caleb Schwab on Sunday has parents wondering if water slides are safe for kids now. Because the thought of that little boy dying is honestly too much to bear.
Caleb Schwab was visiting Schlitterbahn Water Park in Kansas City with his parents when he decided to take a turn on the recently-opened "world's tallest waterslide," Verruckt (named after the German word for "insane"), a 168-foot high water slide that mimics a roller coaster. The water slide had suffered some serious malfunctions during construction, with rafts catapulting off into the air and through the safety netting that surrounds the slide. The initial open date of 2014 had to be rescheduled more than once, and eventually opened in June of this year.
When Caleb, who is the son of a Kansas state legislator, rode Verruckt on Sunday he suffered a neck injury and was decapitated. The ride was immediately closed and remains closed pending investigation.
Co-owner of Shlitterbahn Water Park and creator of Verruckt Jeff Henry told USA Today that Shlitterbahn "is a family water park, but this isn't a family ride. It's for the thrill seekers of the world, people into extreme adventure." Yet the only requirement for riding the "safe dangerous" water slide is a height requirement; riders must be over 54 inches tall (approximately four and a half feet tall). Park employees are also required to read a two page safety document before allowing riders to enjoy the slide.
One of the issues with water slides is the lack of safety legislation for amusement parks in the United States. In fact, one of the reasons Verruckt was built in Kansas was because that state would allow them to build the slide as high as they wanted. In an interview with CNN, Verruckt head designer John Schooley said,
We have long experience in building water park rides and developing new technology. Our park in Kansas City doesn't have a height restriction so we decided to put it right here.
While amusement parks continue to try to outdo each other in the thrill department, there are still few states that require these parks to submit to accident investigations or even allow for surprise inspection of their equipment. Even when the Verruckt water slide was being actively promoted as a ride "for thrill seekers," it has not been officially inspected since 2014. Which means that consumers don't really have any way of gauging the safety of the water slides they are enjoying.
There could be many water slides that are safe to use, of course, but until amusement parks are required to incorporate safety measures, perhaps we should all exercise a little caution with our kids. Because what happened to Caleb Schwab should never happen again.