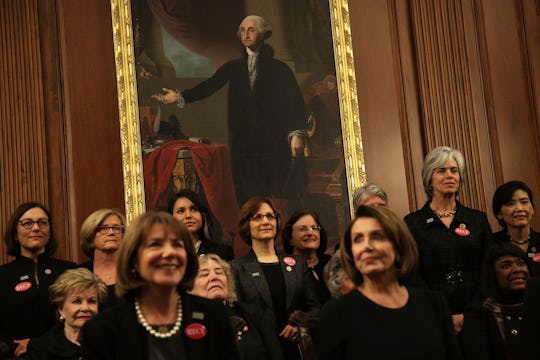 Alex Wong/Getty Images News/Getty Images
Here's Why You'll See Women Wearing Black At The State Of The Union Tonight
Do you remember the Golden Globes, how almost all of the women and many men in attendance at one of the most glamorous events of the year chose to wear black? In past years, this would have appeared to be a fashion statement, a lesson in chic for the rest of women to emulate at home. This year, however, it was a lesson in solidarity. A picture of a perfect, silent protest against a long history of sexual harassment and misconduct against women. And now it could happen on the political front; women are reportedly wearing black to the State of the Union tonight as a sign of solidarity for all women who have had to suffer through sexual harassment.
Democratic women will be wearing black to listen to President Donald Trump's first ever State of the Union on Tuesday as a means to support survivors of sexual misconduct. As New York Rep. Nita Lowey told Refinery29:
I will wear black to the State of the Union to stand in solidarity with the survivors of sexual assault and harassment, and to send a clear message that women of Congress will not tolerate these abuses and will continue to fight for meaningful change.
Trump has been accused of sexual misconduct by at least 19 women in the past, as Business Insider reported. Romper's request for comment from the White House regarding the allegations was not immediately returned, but Trump has previously stated that the accusations are false and politically motivated, according to Business Insider.
While it remains unclear how many Democratic women are expected to wear black to the State of the Union, the movement was spearheaded by the Democratic Women's Working group in the House. These women have invited others to join their protest. The message behind these women wearing black is intended to draw attention to the sexual misconduct allegations levied against Trump. Not to mention other men in positions of power who might have used their influence to sexually harass women over the years.
As Rep. Lois Frankel noted in a recent tweet about the plan to wear black, the silent protest is meant to support the #TimesUp and #MeToo movements that have come about in recent months. Both movements have sparked national conversation and debate about the nature of sexual harassment, and work towards supporting women to come forward when they have previously been silenced.
California Rep. Jackie Spier, the woman behind the #MeTooCongress movement, explained to CNN why wearing black is so important, especially now:
It's a symbol of solidarity. We're seeing a huge culture shift and a sea of black on the floor will be a potent message.
Wearing a sort of protest uniform to signify protest has become something of a staple for women trying to effect change throughout the past year. During the Women's March on Washington (and dozens of other cities across the country) last January after Trump's inauguration, the pink knitted hats became synonymous with the feminist movement.
Wearing black to the State of the Union address on Tuesday night won't be the only way women will protest a president they see as decidedly misogynistic (whether or not the allegations against Trump are true, he has a well-documented history of anti-female commentary that spans decades). Some members of Congress plan to bring assault survivors to the address, while others plan to bring anti-harassment advocates along with them.
Trump might choose not to acknowledge any of these women wearing black, but that doesn't mean he won't see them. And I suppose that is entirely the point when it comes to issues of sexual harassment; to be seen. To refuse to be ignored. To stand in solidarity and say you refuse to be silent. I'll wear black to that.
Check out Romper's new video series, Romper's Doula Diaries:
Watch full episodes of Romper's Doula Diaries on Facebook Watch.