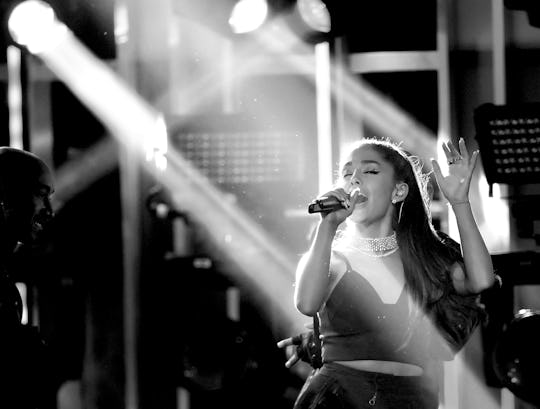 Kevin Winter/Getty Images Entertainment/Getty Images
Ariana Grande Offered To Pay For Manchester Victims' Funerals
On Monday, 22 people were killed and another 59 injured, some seriously, after a suicide bomber detonated a bomb outside of an Ariana Grande concert at the Manchester Arena in England, according to The Independent. While the 23-year-old singer was not hurt in the bombing, the attack has been no less traumatizing for Grande and her team. According to a fan-run Twitter account, Ariana Grande has reportedly offered to pay for the Manchester bombing victims' funerals. Representatives for Grande did not immediately return Romper's request for confirmation or comment.
While reports of Grande's awe-inspiring offer to the victims' families has yet to be confirmed, many of Grande's fans — known as Arianators — see this reported gesture as completely in character for the singer. One Twitter user replied to the tweet saying, "I'm not surprised Ariana is doing this she's literally the most caring person in the world" while another Twitter user commented, "None of this is her fault in any way shape or form, she has such a beautiful heart. Bless her."
Grande herself has not yet issued a full public statement on the Manchester bombing beyond a single tweet from Monday night: "broken. from the bottom of my heart, i am so so sorry. i don't have words."
The fan-run Twitter account also claimed that Grande has spoken with the victims' families, but this has also yet to be confirmed. The Manchester bombing was especially sinister given that Grande's fan base are little girls and young women; 12 of the 22 deceased victims were under the age of 16. The youngest victim of the Manchester bombing has been identified as 8-year-old Saffie Rose Roussos.
If Grande has made this extremely generous and moving offer to the victims' families, it speaks volumes to her character. She has no obligation to offer anything at all, but it's clear that the Manchester bombing has weighed heavily on the young singer. It's also possible that Grande could be suffering from survivor's guilt since the attack happened at one of her concerts — and this offer, if confirmed, could represent her way of processing her own trauma. Regardless, it would be an immensely profound and beautiful gesture on Grande's part.
Grande had just finished the Manchester stop on her Dangerous Woman Tour, performing her album released in 2016. While initially suspended, Grande has not canceled the rest of her tour, but future performance dates remain in the air. According to Reuters, Grande returned to the United States on Tuesday, where she arrived at an airport in her hometown of Boca Raton, Florida, by private jet. The former Disney Channel star is scheduled to continue her Dangerous Woman Tour at London's O2 Arena Thursday and Friday, but the singer has not yet confirmed if she will play these forthcoming shows scheduled to follow so soon after Monday's terrorist attack.