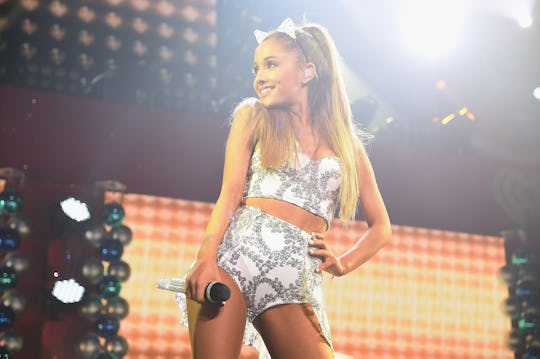 Ariana Grande's Body Positive Tweet Has Cemented Her As Our Newest Feminist Hero In Hollywood
July 2015. We all remember it. The breeze was warmer, the post-July 4th food coma was realer, and the entire United States could agree on just one thing for once: Ariana Grande, serial doughnut-licker, was our least favorite person in Hollywood. What a difference four months makes. Because, in the last week, the "Problem" singer has proven to be anything but, instead making numerous statements that cement Grande as a feminist voice in Hollywood, something that's never not needed. (Have you seen those David O. Russell comments about pay inequality in the industry?)
So how's she done it? Here are just a few ways that Grande has managed to become our new feminist hero in almost record time. 
She Shoots Down Sexism
And Ariana Grande's appearance on Power 106FM — during which she rightly called out the radio hosts for their sexist comments — was sweeter than any of the doughnuts she licked that night in July. 
After being asked by hosts Justin Credible and Eric Dlux, "If you could use makeup or your phone one last time, which one would you pick?" Grande responded with a quote that deserves all of the praise hands emoji: 
Is this what you think girls have trouble choosing between? Is this men assuming that that's what girls would have to choose between?
Grande followed all that up with a mic drop, "Boys learn," when Credible and Dlux said "ladies" should learn from Grande's shocking ability to stay away from her phone. (Sigh.) 
After that line of questioning, it made perfect sense that Grande would answer a question about what needs to be fixed in the world with the following:  
I have a long list of things I'd like to change. I think just sort of judgment in general, like, sort of weird intolerance, and meanness, and double standards, misogyny, racism, sexism, you know, all that sh*t.
And she's certainly helping the cause.
She's Body Positive
Shortly after knocking down Power 106FM's radio hosts, Grande made headlines for a particularly poignant response to Internet trolls who mocked her figure. One of her followers tweeted that Ariel's body was better than Grande's because, "curves are sexy and sticks aren't." Responded Grande:
Can we hashtag #DiversityIsSexy? Flawless. 
She Identifies As Feminist
Unlike other Hollywood celebrities who refuse to call themselves feminists — they are clearly confused over the word's meaning — Grande self-identifies strongly as feminist, and even took to social media in July to shout it from the 140-character rooftops. Following tabloid accounts of her former relationship with Big Sean, Grande wrote, "I am tired of living in a world where women are mostly referred to as a man's past, present or future PROPERTY / POSSESSION. I... do not. belong. to anyone. but myself. and neither do you. The full text:
And the Gloria Steinem quote to wrap it all up? Did I mention:
She Won't Be Defined By Her Looks
Close your ears, Beaches fans — Bette Midler misstepped back in 2014 when she said in an interview with The Guardian that Grande shouldn't have to "make a whore out of yourself to get ahead." Instead of slamming Midler in return, Grande responded:
It was enough to convince Midler to back off her comments... in her own unique way. "Spoken like a reformed old whore!" she wrote on Twitter. "She does have a beautiful voice."
She Celebrates Her Fellow Feminists
Like her own mother. In October, Grande's mom, Joan Grande, tweeted an image that showed the stark difference of how one store was shilling "Women's Interests" publications and "Men's Interests" publications. The former? All tabloids and style magazines. The latter? Tech, finance, and fitness reads. Grande chimed in with support for her mother's words:
It runs in the family.
And, Of Course, She Likes Doughnuts
I mean, who doesn't? 
Image: Jamie McCarthy/Getty