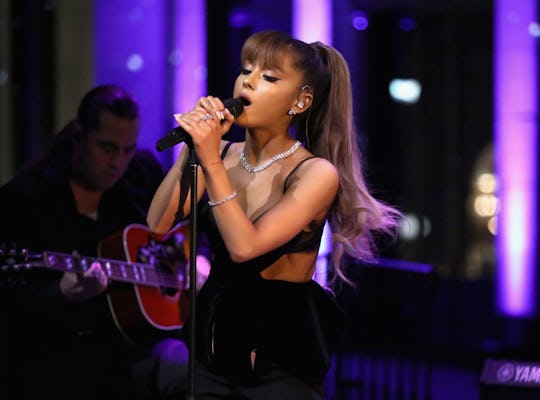 Handout/Getty Images Entertainment/Getty Images
Ariana Grande's Mom Tweets After Manchester Attack
The suicide bombing outside an Ariana Grande concert in Manchester, England last week was terrifying for many reasons: It killed 22 people and injured scores more, it fits into a trend of such attacks terrorizing Europe and elsewhere, the terrorist group ISIS has claimed responsibility. It's also been called an attack on teen girls because the pop star's fans were targeted; that's surely an awful prospect for the 23-year-old singer and her family. Still, Ariana Grande's mom offered solidarity after the Manchester bombing, and implored fans not to let the inevitable fear win in a touching Memorial Day Twitter post Monday. Perhaps it was just what some of those who love her daughter and her music needed to hear.
"This past week I have spent in reflective thought, prayer & deep sorrow," Joan Grande tweeted a week after the bombing propelled Britain's terror threat to "critical" and prompted her daughter to tweet that she was "broken" by the carnage. "I join my daughter in extending my help & services to all those affected by the diabolical act of terror which occurred in Manchester!"
Joan Grande was actually present in Manchester Arena when the bomb exploded outside as fans streamed out after the show. She and Grande immediately flew home to Boca Raton afterwards.
But they simply aimed to recover, not to hide. Ariana Grande announced just days later that she will soon return to Manchester to perform a benefit concert for victims, although specifics have not yet been released. It's a move of which Joan Grande apparently approves, as she warned against letting fear dictate what we do and don't do in the rest of her Twitter message:
My heart goes out to all the victims. Those who lost their lives, those injured, those recovering & all survivors of that night, along with the families & friends whose grief knows no bounds. I stand with you all in the face of evil & we stand together to never let it rule our lives! Thank you to all those who helped in any way that night in Manchester. I continually thank those who are & were in service protecting our freedoms every day allover the world! #MemorialDay
Soon after the bombing, reports surfaced that Joan Grande had ushered as many as 10 young fans backstage when they heard the bomb detonate, in order to protect them. That touching anecdote is unconfirmed, but she showed in her Twitter message that she is as caring and compassionate as the story suggests.