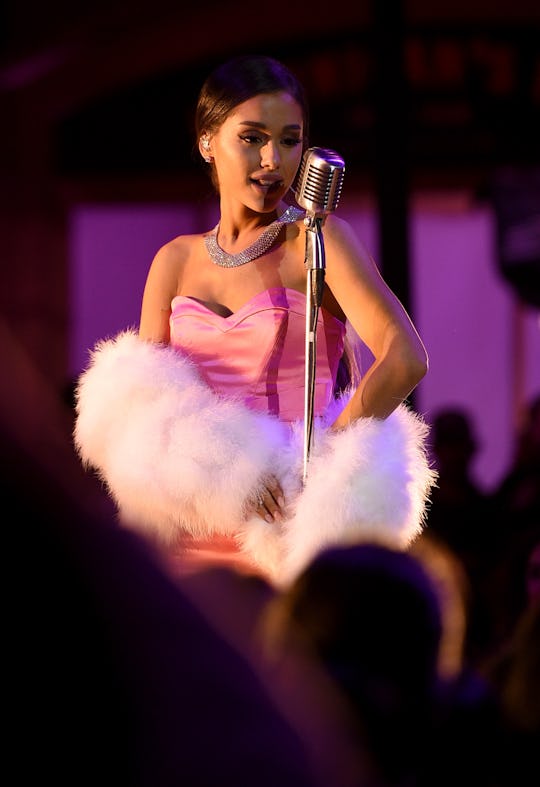 Larry Busacca/Getty Images Entertainment/Getty Images
Ariana Grande's MTV Movie Awards Performance Paid Homage To Old Hollywood
As many times as I try to deny my love for Ariana Grande, I can't. I love her songs and I don't care who knows it. The girl can sing and perform just as well, too. She knows how to produce a great hit that you, without fail, will be singing in your car for weeks and months after first hearing it. Like her newest song, "Dangerous Woman." So, it was no surprise to me that Ariana Grande's performance at the MTV Movie Awards paid homage to old Holywood and did such an amazing job at it.
Before her performance, the singer showed up in an stunning pink gown to the awards show, looking like she fit in with old Hollywood glamour. Which is a perfect way for her to dress, considering the location of the awards show on the Warner Brothers backlot. Jaws dropped on the red carpet when she appeared in the fabulous dress, faux fur stole, and diamond choker, looking a lot like Marilyn Monroe in Gentleman Prefer Blondes, a film from 1953.
She performed the song in the same outfit and it definitely fit the performance's theme. The star performed a brand-new version of her latest single, "Dangerous Woman" with Broadway composer Jason Robert Brown accompanying her on the piano decorated with the words "Dangerous Woman" on it.
The song's simple composition highlighted Grande's vast vocal range and truly showed what a powerhouse vocalist she really can be — in case you forgot. "I'm very excited to be performing a different version of 'Dangerous Woman' with one of my favorite Broadway composers on the planet, Jason Robert Brown," Grande told MTV News. "He is ridiculously talented and gave me my first job in 13 The Musical so this is a very special thing for me. It means a lot."
So sweet! Grande also said that she loves working with Jason Robert Brown because "it feels like home." That, to me, gives the performance so much more passion and meaning behind it. Grande told MTV News that she hoped fans enjoyed the new take on her newest song.
I think its exciting to change it up and do a song that, now everyone has heard it and I performed it a few times already, and now it is adding an exciting flavor to it and it's more character-y and I'm excited to have fun and dress up and do a different version of it.
Grande worked the character of old Hollywood glamour and looked like she could fit right in on the film set in the 1950's, herself. And, judging by the crowd's reaction, it seemed like they enjoyed it just as much as she hoped that they would. Grande slayed her performance, as to be expected, and I am no longer denying my love for her anymore.