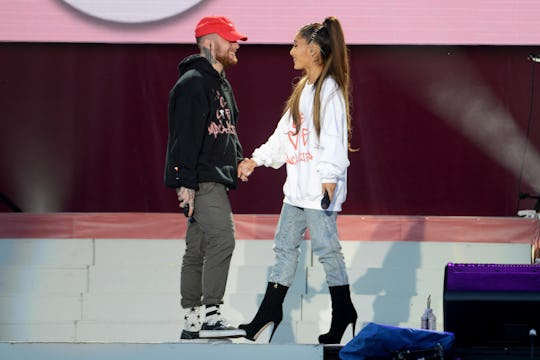 Getty Images/Getty Images Entertainment/Getty Images
Ariana Grande's Response To Ex-Boyfriend Mac Miller's Death Is Heartbreaking
Mac Miller was a talented performer, a well-respected rapper, and a man who was simply too young to die. When news of Miller's death hit the internet on Friday, people were justifiably upset and confused. Mac Miller was only 26 years old, his new album Swimming was out and doing well; in many ways he seemed to have life by the horns. But appearances can be deceiving, and now his family and friends are left to pick up the pieces. One friend in particular was especially upset. His ex-girlfriend. Ariana Grande's response to ex-boyfriend Miller's death is heartbreaking.
The two performers started dating after a Twitter exchange back in November 2012. Miller opened up a conversation with Grande as his alter-ego Larry Lovestein, and eventually asked her to sing a duet with him. The two covered the classic Christmas song "Baby It's Cold Outside" and from there began a serious collaboration and friendship. By Aug. 2016, the pair were finally ready to admit they were officially dating. When you consider the fact that Miller was just 20 years old at the time and the "No Tears Left To Cry" singer was just 19, it's easy to see how momentous this relationship truly must have been for them both. By the time the couple ended their relationship in May 2018 they had been in each other's lives for six years, whether in a relationship or as friends. That's a long time to care about someone, especially when you're still so young.
And that makes losing them all the more painful.
On Saturday, Sept. 8, Grande finally broke her silence about her ex-boyfriend's untimely death. She did so by sharing a black-and-white photo of Miller via Instagram, Elle reported. Although the photo had no caption and the singer had turned off comments, the shot was clearly a tribute to Miller — and proof that she is clearly mourning his death.
TMZ reported that Mac Miller was found dead in his home in the San Fernando Valley in California on Friday. Paramedics responded to a 911 call from a man and arrived at his home to discover the Swimming rapper unresponsive, reportedly doe to an overdose. He was pronounced dead upon arrival. In the hours after his death was reported, several celebrities in the music industry took to social media to share their grief over the loss of their friend and collaborator. Performers like J. Cole, Chance the Rapper, Post Malone, and Solange Knowles and more all made it clear they were devastated to say goodbye Chance referred to as "one of the sweetest guys I ever knew."
Rapper Snoop Dogg, who was in the movie Scary Movie 5 with Miller, shared a gif of one of their scenes together with the caption:
So sad u gone home young Mac I had to post this to smile and think about the good Time we had on the set of this movie man god bless ya family. Pittsburg we lost a real one today
Ariana Grande and Miller had broken up in May and she recently got engaged to SNL's Pete Davidson. Sadly, several fans have made the terrible (and erroneous) decision to blame Grande for Miller's death, prompting her to disable comments on her Instagram page after the news of his death. Perhaps to give herself a moment to process the death of someone she once referred to as her "best friend," even when she was sharing news of their split on her Instagram Stories in May:
This is one of my best friends in the whole world and favorite people on the planet. I respect and adore him endlessly and am grateful to have him in my life in any form, at all times regardless of how our relationship changes or what the universe holds for each of us!
Clearly it's a difficult time for everyone who loved Miller. His friends, his family, his fans... and his ex-girlfriend. So perhaps everyone can give her a break.