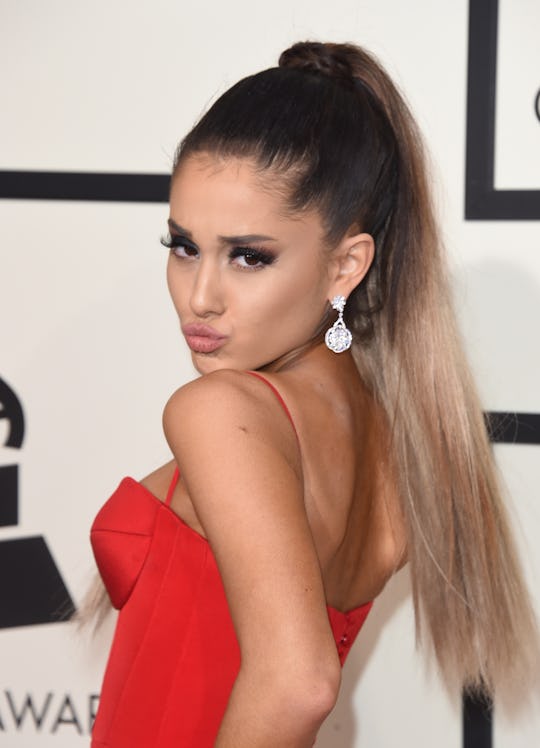 Jason Merritt/Getty Images Entertainment/Getty Images
Ariana Grande's 'SNL' Performance May Not Have Been Scandalous, But It Was Perfect
Twenty-two-year-old singer and Nickelodeon alum Ariana Grande hosted Saturday Night Live last night, and it was an excellent showcase of her many talents. Seriously, this girl is an acting and singing chameleon, and I mean that in the best possible way. Grande doubled as both host and performer, and used SNL to poke fun at her donut-licking "scandal," show off her incredible vocal range, and debut two new songs off her upcoming album Dangerous Woman. It was everything I wanted it to be and more.
She started off the night by making fun of her Nickelodeon beginnings, saying, "It's been a dream of mine to be on this stage ever since I was a little girl, which was two months ago. I've been singing and acting since I was 8 — I started on my career on kids' TV, doing Nickelodeon." After making fun of the incident where she and a backup singer were seen licking donuts in a shop, she said she was ready for a real scandal — or as she put it, "Something that says, 'Welcome to Hollywood, kid.'"
Before turning down SNL's youngest cast member, Pete Davidson, on his invitation to smoke pot ("Pot?" she replied. "Let's smoke some crack, man!"), Grande launched into her opening song for the night: "What Will My Scandal Be?"
In case you missed it, here's a few highlights.
Grande Tried To Pick A Scandal
There's just so many good options. She sang about a nip slip at Super Bowl, diet pills scrambling her brain, getting kicked off a plane, or having a baby with Drake or 2 Chainz.
She Impersonated The Antics Of Award Pre-Show Programs
It's been a long season of awards shows, and we're all feeling a little loopy. Grande did an awesome job of conveying the busy, lets-pretend-something-is-actually-happening feel of a pre-show program.
She & The SNL Ladies Took On Feminism
Look, writing a feminist song is hard, all right? You want to show you care and you're on board with the cause, but you can't please everyone. It might be easier to just avoid calling it a feminist song.
She Impersonated Every Artist, Ever, Because Life Isn't Fair
This is Grande's true time to shine. She impersonated Shakira, Britney Spears, Whitney Houston, Celine Dion, and Rihanna. Yes, she sings "Work." There is nothing better than this, really.
Um, She Also Does A Great J-Law
Not only did Grande take on the singing legends of the '90s and 2000s, she killed it as a nonchalant Jennifer Lawrence on Family Feud, poking fun at how relatable Lawrence is.
And Finally, She Introduced Us To Her New Songs
Grande is an actual goddess, and her live performance of "Dangerous Woman" and "Be Alright" on the SNL stage was fantastic.
If you missed Ariana Grande on SNL, never fear. The episode will be available online until Apr. 10, so go stream it now (and yes, get ready to have "Be Alright" stuck in your head for days to come).