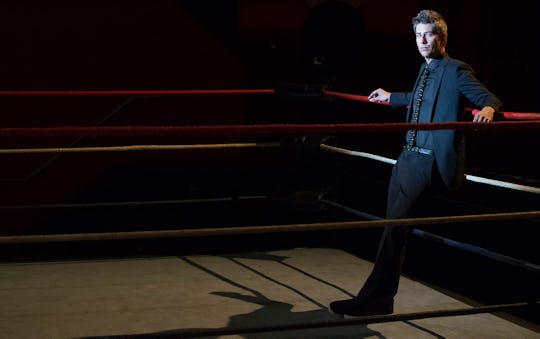 Paul Hebert/ABC
Arie Opened Up About His Ex In A Shocking Way On 'The Bachelor'
On his first one-on-one date with the shy Lauren B., Arie dropped a huge bombshell about his previous relationship which has gone unspoken about until now. Arie opened up about his ex on The Bachelor, revealing the details of her miscarriage, and it totally shocked Bachelor Nation.
The 10 remaining women spent Week 6 in Paris, where Arie and Lauren B. got the first one-on-one date of the trip. They zipped down the Seine on a romantic boat ride, visited Notre-Dame, and finally had dinner at a charming café. But the date was virtually silent until the couple sat down to eat.
Lauren B. has been pretty quiet all season and Arie was starting to notice how conspicuously guarded she's being. He finally pushed her to open up over dinner, and she confessed that her parents had a tumultuous marriage, which led her to mistrust relationships in their early phases. She openly admitted that she tends to "friendzone" men she's interested in for months. Arie took the opportunity to lead by example and encourage her to be vulnerable by being vulnerable himself. He shared that he understood having trust issues in relationships, because one of his exes left him after miscarrying his child.
Presumably, this is the mom Arie referenced having dated on Emily Maynard's season of The Bachelorette. (He mentioned that this particular ex was a mother of two and that they had been living together.) Apparently, the fact that he was traveling so much to accommodate his racing career had become a point of contention in the relationship. She got pregnant and Arie says he tried to scale back on work, but that it was the busy part of the racing season. He shared that he happened to be traveling when he got a call from his now-ex saying that she had miscarried and she wouldn't be at home when he returned from his trip. So she left him in the same conversation in which she told him about the miscarriage.
We haven't heard this particular ex's side of the story yet, but Arie's version of events seemed to deeply affect him. He cited it as one of the origins of his issues around trust, which is understandable. It sounds like a devastating breakup — for both Arie and his ex.
In any case, he's definitely moved away from racing full time now, and it sounds like this relationship ending was part of the impetus for that. Arie got his real estate license in 2016, which allows him to practice in the state of Arizona, where he owns a home and where his family lives. He's made meaningful strides to settle his life and prepare for being present to raise a family, which is a huge personal step. It's a bummer that it was too late for him to make it work with his ex and that the pair suffered such a painful breakup, but it's also heartening to see that he learned from the experience. It seems like he's internalized the value and importance of being present for your partner — especially if you're on the cusp of starting a family together — and he seems ready to take that on with someone.
For her part, Lauren B. showed Arie a lot of sympathy and she even got a little emotional describing her fears for the relationship. Arie, finally seeing how much she liked him, decided to give her a rose at the end of the date.
Check out Romper's new video series, Romper's Doula Diaries:
Watch full episodes of Romper's Doula Diaries on Facebook Watch.