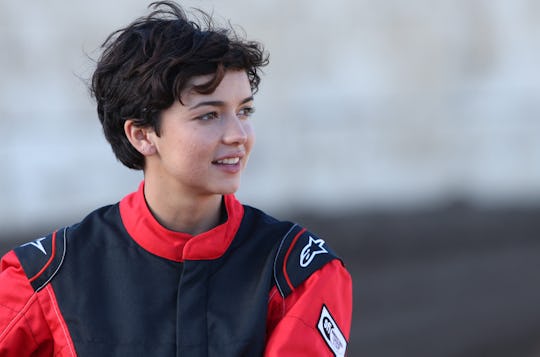 ABC
Arie's Reaction To Bekah's Age Is The Moment 'Bachelor' Fans Have Been Waiting For
One of the major sources of drama in an otherwise sleepy season of The Bachelor is the 14-year age difference between Arie Luyendyk, Jr., 36, and Bekah M., 22. The nanny and future art student chose to keep her age under wraps in her bio and on the show during the early part of the season, fueling speculation about a potentially scandalous age difference. Sure enough, Arie's reaction to Bekah's age on The Bachelor was ambivalent.
On the one hand, Bekah's reveal made Arie realize how much he liked her — he called her "one of the most amazing people I've maybe ever met." But on the other, it revealed deep insecurities he has about whether or not he'll find a partner who's ready for marriage by the end of the process. For her part, Bekah conducted the conversation super cunningly. Arie was full of concerned questions for her, but rather than answer him as he peppered her with them, Bekah patiently let Arie do most of the talking until he had voiced all of his thoughts. It takes a rock solid sense of security in oneself and maturity not to respond in a situation like that with knee-jerk anxiety or defensiveness, and Bekah's strength was honestly stunning to watch.
If anything, Bekah proved what a skillful listener and communicator she was in that moment — possibly an even better one than Arie. He was the one who started spiraling into his fear of the unknown, while Bekah felt comfortable admitting that she didn't know what would happen, she didn't know if she was "ready," or what that even means, and she wasn't terribly concerned with the risk they were both taking. As she sees it, their relationship is worth it for the experience and the connection. This is the kind of openheartedness, vulnerability, and generally game sense of romantic adventure literally every Bachelor and Bachelorette begs of their contestants.
Of course, it's easy to adopt this point of view when someone is young and has a lot of time left to sort out their life — if that's what Bekah wants. Arie isn't in quite the same position at his age. He's stated over and over again that he's itching to settle down, and he feels very ready to start a family. In 2016, Arie pivoted away from his racing career and toward a more stable job in real estate in his hometown of Scottsdale, Arizona. He jokes that his life is "boring" now, and it's clear that he's become extremely family-oriented in recent years. (Look no further than the footage of him playing with Sean and Catherine's baby.)
He's understandably worried that Bekah has "so much life left to live," and that they're not in the same place when it comes to committing. Bekah pointed out that her mother and sisters all got married in their late-teens and early-twenties, so the idea of getting married at her age doesn't feel strange. But she's also being smart, honest, and open about the unknown, while Arie seems defensive, guarded, and insecure. He and Bekah have some of the strongest physical chemistry on the show, and while he openly admits that he tends to "lead with that," and wants to go into this experience knowing for sure that an emotional connection exists, he also can't guarantee an emotional connection with anyone. To doubt Bekah's seriousness, commitment, or depth just because she happens to be an age which scares him is pretty unfair to her.
Check out Romper's new video series, Romper's Doula Diaries:
Watch full episodes of Romper's Doula Diaries on Facebook Watch.