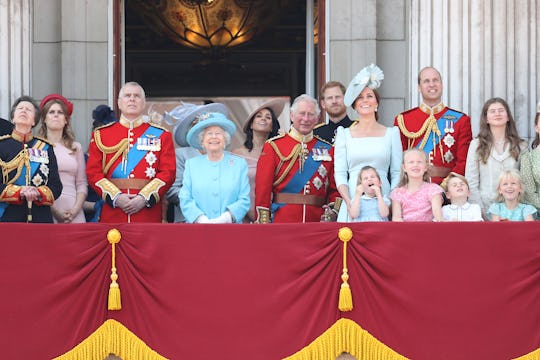 Chris Jackson/Getty Images Entertainment/Getty Images
As Usual, A Royal Kid Stole The Spotlight At The Trooping The Colour
On Saturday London, England hosted the annual Trooping The Colour to celebrate Queen Elizabeth's 92nd birthday. Every year, military outfits from Great Britain and other areas throughout the Commonwealth join a parade from Buckingham Palace to show off their colours (and flags), while marching for the pleasure of Her Majesty. It's a beautiful site, an auspicious event that has been happening for hundreds of years. And literally nobody on the planet loved it more than Prince George and Princess Charlotte. As usual, the royal kids stole the show at the Trooping Of The Colour, and they're so cute I'm sure the military regiments won't take it personally.
This time around, 4-year-old Prince George and 3-year-old Princess Charlotte were joined on the balcony of Buckingham Palace by another little royal partner-in-crime. The great-granddaughter of Queen Elizabeth, 7-year-old Savannah Phillips. Her parents are Peter and Autumn Phillips and her grandmother is Princess Anne. The 7-year-old stood between the two children of Kate Middleton and Prince William and totally hammed it up for the cameras. Which had Prince George laughing hysterically whenever he could. The best moment came when Savannah managed to eyeball a camera, look the whole world dead in the eye, and cover Prince George's mouth as he tried to sing along with "God Save The Queen." She did so with a look that can only be described as chilling. But hilarious.
So here are all the things that make this moment between Prince George, future King of England, and his older spunky cousin so great; first, she's clearly not concerned about what people think. Which is always the hallmark for the best people, in my humble opinion. Second, George is laughing under her hand, which means he's not too concerned either. And last, I'm just happy to see normal cousins hanging out and being all normal on the balcony of a palace. It gives me joy, what can I tell you?
Being on that balcony was giving the cousins some serious joy too.
That being said, it wasn't all sunshine and roses. Princess Charlotte was having a bit of a moment, and apparently had a little fall that left her feeling upset. Which was really unfortunate since, prior to her fall, Princess Charlotte was full of happy waves and smiles for the crowds as per usual. Of course Kate Middleton was on hand to swoop her daughter up and make it all better. It's like that woman is part cat, she has the reflexes of a lynx.
One royal kid wasn't on hand for the Trooping The Colour ceremony, unfortunately. Baby Prince Louis, Prince George and Princess Charlotte's baby brother. His parents the Duke and Duchess of Cambridge didn't bring him along for the parade, which was probably a good idea considering all of the noise being made by at least 1,000 soldiers trooping down the Mall. Not exactly conducive for a tiny baby to be brought out in front of thousands of people, perhaps. Especially when his brother and sister are on hand and need attention themselves.
This isn't the first time Prince George and Princess Charlotte have been on hand at the Trooping Of Colour, but it is the first time royal watchers have gotten the chance to really see them hanging out with their cousins. Generally speaking, they seem to be alone with their parents which is great... but as anyone with a spunky older cousin knows, they're always going to get you into some good mischief. Not to mention keep you in line. And so let us all give thanks to hilarious little Savannah Phillips. Good-naturedly silencing the heir to the throne.