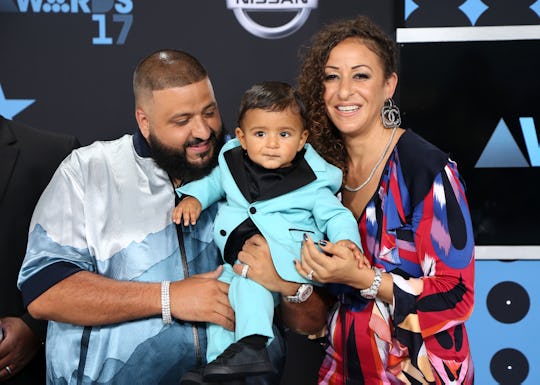 Maury Phillips/Getty Images Entertainment/Getty Images
Asahd Khaled Is Auctioning His Blue Tuxedo & Is Better Than Us All
If I could be granted one wish on this big blue marble we call planet earth, it would be for world peace. That, and also to live as Asahd Khaled for just, like, a day. Asahd has somehow managed to accomplish more with his life at 9 months old than I've accomplished in my whole life. And now he's at it again, schooling all of us on how to live his best life: Asahd Khaled is auctioning off his blue Gucci tuxedo for charity, because that's just the sort of moral high ground he would take.
His dad, hip hop mogul DJ Khaled, might have had a hand in gently guiding Asahd towards his charitable donation. After all, the teeny-tiny Gucci suit is being donated as part of the senior Khaled's Posh Closet for Charity initiative, according to New York Magazine's The Cut. Some of you might recognize the pint-sized baby blue tuxedo; Asahd wore it on the cover of DJ Khaled's album Grateful and again when he attended the 2017 BET Awards with his parents (his mom is Khaled's longtime partner, Nicole Tuck).
Both Asahd's suit and his dad's matching sateen tuxedo are being auctioned on the website PoshMark, with a portion of the proceeds going to "Get Schooled," a charity that focuses on encouraging kids to finish high school. DJ Khaled has supported this charity with his "Win More Music" campaign, which is designed to "engage schools interested in building their music industry connections." Khaled is working with Get Schooled to help provide music studios in high schools.
Asahd's Gucci suit, which normally retails for around $600 to $1000, was only worn twice and is now being sold for $1350 to one lucky (although admittedly, probably utterly oblivious) infant. The auction went live Tuesday and will include several exclusive pieces from DJ Khaled's closet.
So now, Asahd can add altruistic patron of worthy charities to his already impressive resume, which includes an executive producer credit on his dad's latest album, social media superstar (with 1.2 million followers on Instagram), and possibly most-loved baby on the planet.
It's no secret that Asahd Khaled has become not only the apple of his parents' eye, but the darling of the world in general. He's been on the cover of magazines, gotten kissed by Rihanna, had his teeny head cradled by Justin Bieber, and rang the bell of the New York Stock Exchange to name a few tidbits in the whirlwind life of a baby rock star.
No wonder Asahd wants to pass the blessings on down and keep the good karma flowing.