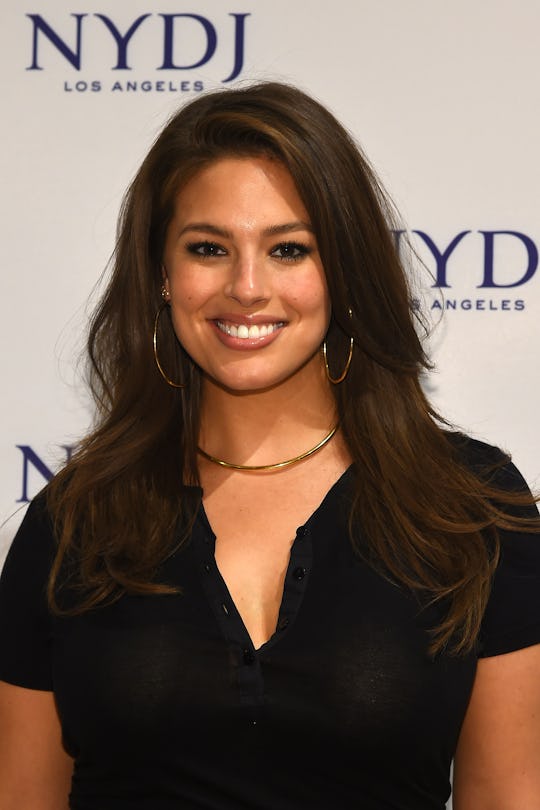 Ben Gabbe/Getty Images
Ashley Graham On Sports Illustrated's Swimsuit Cover Is Such A Huge, Belated Milestone
After more than 50 years of bikini-clad, thin women gracing the modeling world's most coveted cover, Sport's Illustrated and plus-size Model Ashley Graham have made history. For the first time, three different women, including Graham, will be on Sport's Illustrated's Swimsuit Edition cover to proudly represent three different varied and beautiful body types. Graham, a plus-size model famous for her Lane Bryant "I'm No Angel" campaign and runway show, joined model Hailey Clauson and UFC fighter Ronda Rousey and, seriously, it's about damn time.
While it is worth noting that the SI Swimsuit magazine still has work to do in terms of featuring women of color (come on, guys), it is refreshing to see a vastly under-represented body type (and the woman who is proud of it) highlighted in such a glamorous way. For far too long, being thin was synonymous with being healthy, and being "plus-size" was synonymous with laziness and/or disease. Of course, neither assumption is true, as it is impossible to know how healthy or unhealthy an individual is by simply looking at them. A person's weight or size or specific measurements is not always (read: rarely ever) indicative of their eating or exercise habits, so this milestone — while worthy of vast celebration — is also a little late to the game.
In an Instagram post on Saturday, Graham excitedly wrote,
Truly speechless!!! This cover is for every woman who felt like she wasn't beautiful enough because of her size. You can do and achieve anything you put your mind to. Thank you so much to the entire @si_swimsuit team! I'm so excited to be a part of your family. I love you all!!!
Sport's Illustrated's Swimsuit Edition is all about celebrating healthy, fit bodies that are capable of doing incredible, athletic things. Ashley Graham's body is healthy and fit and capable of doing incredible, athletic things, so it makes sense that she — and hopefully, going forward, many more women like her — are given the same credit and celebration as other women who fit a specific social standard of "normative" beauty.
Graham's cover appearance also works to end the dangerous assumption that you can tell a person is healthy by whichever size pants they're wearing. There are many large, plus-size, fat men and women who are very healthy, and there are many many size zero men and women who are far from healthy. An individual's appearance should not be the barometer by which we measure health, and shouldn't be a standard used to shame specific individuals into "getting healthy" (because, let's face it, no one goes to the gym because people are mean to them. That's not a thing).
It's time to stop feigning concern for the healthy (or unhealthy) choices of others, just so certain body types can be openly shamed. It's time to stop pretending like people care about a stranger's health and, instead, it's time we all embrace and celebrate varying body types and the individuals who are so very proud of them. Being labeled "plus size" or large or fat or anything in between, doesn't mean that you can't also be athletic and powerful and healthy and, yes, wear a bikini on a beach so your picture can be on the cover of one of the most famous magazines in the world. We probably (definitely) shouldn't have needed a 2016 Sport's Illustrated Swimsuit Cover to remind us that every body is beautiful, and worthy of celebration.