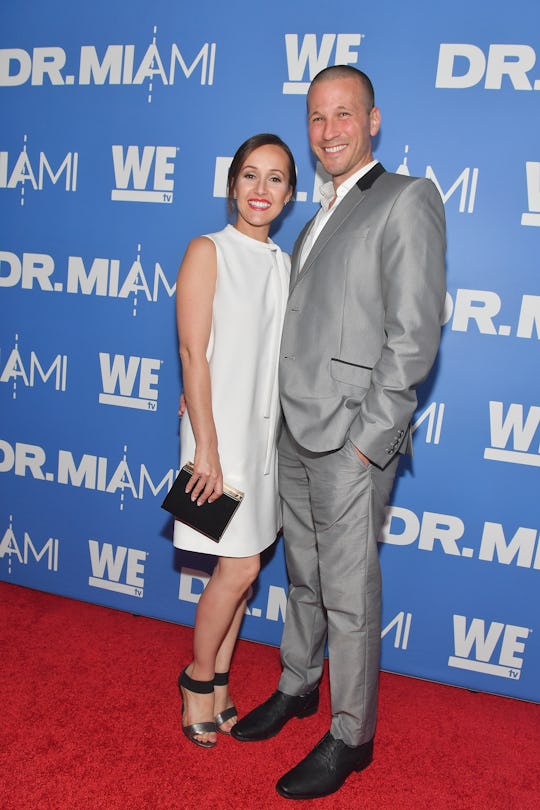 Rodrigo Varela/Getty Images Entertainment/Getty Images
'The Bachelorette's Ashley Hebert & J.P. Rosenbaum Just Renewed Their Wedding Vows
Ashley Hebert may not have found a love connection in Brad Womack when she competed on the 15th season of The Bachelor in 2011, but that actually seemed to work out for the best: not only did she get engaged to J.P. Rosenbaum in Fiji when she came back for a turn as The Bachelorette later that year, the two actually tied the knot in a televised ABC special in 2012, and now they have two kids together. Their romance puts them in a select group of enduring Bachelor Nation love connections, but in case there was any doubt, Ashley Hebert and J.P. Rosenbaum renewed their wedding vows in Aruba Wednesday, and it's enough to actually make you believe it's totally possible to find lasting love on a reality television show.
Rosenbaum celebrated their renewal by sharing a photo on Twitter of he and Hebert kissing on the beach, along with the caption, "Thanks to our vow renewal, we are good for at least another 5 years!" Of course, the couple already had their own fairytale wedding day six years ago — they tied the knot in California in front of 200 guests, according to People, with The Bachelor host Chris Harrison officiating. But this time around, they had two super special guests who weren't present on their wedding day: their children, 3-year-old son Fordham, and 21-month-old daughter, Essex.
Their little one may still be a bit young to understand what it means to renew your wedding vows, but they are at least old enough to have a blast in Aruba with their mom and dad. On Instagram, Hebert shared a photo of Rosenbaum in the ocean with Essex, along with the caption, "family fun!" and in an Instagram Story, she also shared an adorable photo of her two kids hugging on their hotel balcony in their pajamas.
From the sounds of it though, the trip was more than just a sweet vacay for the family: according to E! News, Hebert and Rosenbaum were one of many couples who participated in a special event sponsored by Aruba Tourism, which was being billed as "the Caribbean's largest vow renewal ceremony," according to E! News. And in fact, they weren't even the only reality television couple to take part — former Real Housewives of Orange County star Lydia McLaughlin and her husband Doug McLaughlin also renewed their vows.
Given how often Bachelor Nation couples call it quits, Hebert and Rosenbaum definitely seem to have the right idea celebrating their love and commitment to each other six years on. And they're actually following in some pretty impressive footsteps: Trista Sutter (aka the OG Bachelorette) and her husband, Ryan Sutter, renewed their vows in their hometown of Vail, Colorado, in 2013 after ten years of marriage and two children, according to People, and in only two years, The Bachelor season 13 couple Jason and Molly Mesnick, may want to do the same, as they'll be celebrating ten years of marriage, too.
Other Bachelor and Bachelorette couples who seem like they'll go the distance? Sean Lowe & Catherine Giudici tied the knot in 2014, and in May, they welcomed their second child together, while season nine Bachelorette Desiree Hartsock not only found love with Chris Siegfried, they announced in July they were expecting a sibling for their 2-year-old son, Asher.
The likelihood of falling in love for good on The Bachelor or The Bachelorette may not exactly be great, but the fact that couples like Hebert and Rosenbaum exist are proof that it's totally possible. And honestly, what better way could there possibly be than to celebrate that with a family getaway, and a love-filled beach vow renewal?