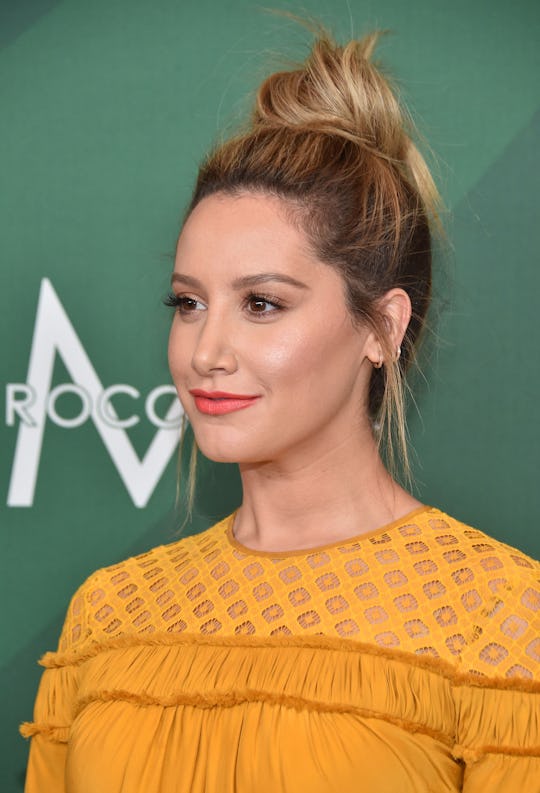 Mike Windle/Getty Images Entertainment/Getty Images
Ashley Tisdale Wants You To Stop Body Shaming
The things that people will say online, behind a curtain of anonymity or on social media, are absolutely shocking sometimes. Like the body shamer Ashley Tisdale took down on Twitter this week. An image of the 31-year old actress arriving to Elton John's AIDS Foundation's Oscars viewing party had some haters saying that she looked pregnant. (For the record, no, Tisdale isn't pregnant. She'd probably tell us if she was.) Seriously, can you believe people actually still don't know that suggesting someone looks pregnant is just totally wrong?
Also wrong: assuming that Tisdale's body shape, weight, or figure could only come from pregnancy. When you look at the picture, it's hard to imagine that anyone could find anything "wrong" with her weight. She's actually very thin and even if she wasn't, what would a few curves matter? Of course not.
Tisdale obviously thought the same and instead of stewing over it or being quiet about it, she called it out. She clapped back, "The pressure to being perfect is a struggle. No im [sic] not pregnant, I'm just happy and haven't been strict on my diet but thanks for the reminder." Let's hope she mumbled, "jerks" under breath as she hit the send button, because that is far more gracious than most people could be.
It's incredible that she even had to say anything at all. Seriously, what about this photo of her in this Christopher French dress screams "pregnant" to you?
When people say a celebrity "looks pregnant" they're basically saying that celeb has seemingly put on some weight, as if it's a bad thing. Which, uh, newsflash everyone: it's not, unless a doctor has said it's hurting your mental or physical health, there's nothing wrong with fluctuating from time to time. And no matter what size you may be one month or the next, your body is absolutely perfect the way it is.
People are always tough on each other. Unfortunately, it's often usually women getting the brunt of that criticism. Remember, the "dad bod," which entails packing a few extra pounds, is considered sexy, whereas social media tears a woman down if she doesn't have a six pack and thigh gap. If you have a six pack and thigh gap, great. It's just not necessary.
Tisdale seems to be just fine in the body image department, but you can hear in that, "thanks for reminding" and mention of a diet, that it's not always easy. If non-famous women are whispering about a woman's "baby weight" or "revenge bod" in the park, being a woman in the public sphere means having people judge you ALL. THE. TIME. It's frustrating to watch. It must be hurtful to experience.
And hard to keep up. In 2015, Tisdale told Health that she has a tight workout schedule. "Any physical activity helps your health and is also a good stress relieve. Monday, Wednesday and Friday I work with my trainer, Jason Walsh. I do kickboxing on Thursday. And I'll squeeze in a sculpt yoga class on, like, Tuesday," she said. She also added that she likes having curves and thinks that her younger self (the one in High School Musical 2) was "too skinny." She said of watching herself, "I had a lot of hair and I was in a bathing suit and I thought, 'I just look like a bobblehead!'"
See what just happened there? When she has some curves and feels "happy," she's body shamed. When she was skinnier, she also judged herself. The pressure is very, very real.
One day, maybe, we'll wake up in a world where people are kind to each other and we don't judge people on absurd expectations of beauty and the word "perfect" doesn't exist. Until then, keep shutting the meanies down with just as much grace as Tisdale did this week.