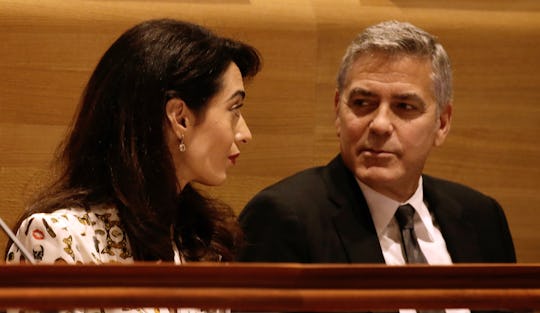 Pool/Getty Images News/Getty Images
At Which Hospital Will Amal Clooney Give Birth?
Amal Clooney is officially on maternity leave now. Which means, I feel it's safe to say, fans can start getting officially excited to see the Clooney twins arrive any day. Because the Clooneys aren't exactly big fans of social media,there has been something of an information drought where their babies are concerned. There have been no updated Instagram posts or anything, but the couple has shared a few tidbits here and there. At which hospital Amal Clooney will give birth is still an unanswered question, but we do know this — the Clooney twins are coming. And they're going to be spectacular.
Us Weekly reported that the couple has already scouted out a hospital in London to bring the twins (a boy and a girl) into the world, with a backup hospital in New York in the wings. I wonder if the backup hospital in New York might be Manhattan's Lenox Hill Hospital, where Beyoncé gave birth to Blue Ivy in January 2012 in a posh executive suite. Do you realize what that could mean? Since Beyoncé and Jay Z will also be welcoming twins any time now, the two sets of A-list twins could maybe even arrive at the same hospital. Maybe on the same day?
Naturally, the expectant parents are probably hoping the twins are born a little closer to their home in Oxfordshire. And if the twins do arrive in London, they will most certainly be arriving in style; inside sources reportedly told Woman's Day New Zealand that Clooney has booked the entire Kensington wing of London's Chelsea and Westminster Hospital for the birth. The news outlet also reported that Amal Clooney, an international human rights lawyer (when she's not delivering twins, of course), is flying in two highly-recommended doulas from Los Angeles to assist with the birth.
As we all count down to see the new babies, nobody is more excited than their parents. Us Weekly reported that Amal Clooney has only just begun to decorate the twins' nursery in their seven-bedroom Oxfordshire estate because, as a source told the news outlet: "They don't want to jinx anything."
E! News reported that Amal Clooney has begun her maternity leave, and that she's feeling rested and excited to see her babies.
Amal is great. She's healthy, excited and looking forward to becoming a mother. She is taking it very easy. She's officially on maternity leave now.
It won't be long now, guys. The long wait for the Carter and Clooney twins, which began all the way back in February, is finally drawing to a close. Hang in there.