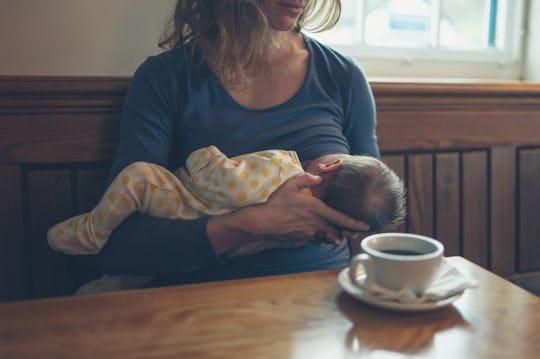 Lolostock/Shutterstock
If Your Baby Hates The Nursing Cover, Here's How To Breastfeed Comfortably In Public
Nursing in public can be challenging for any mom. And trying to nurse a child who loathes being covered can feel akin to putting on a two-person Cirque du Soleil performance — such are the contortions, flailing, and unexpected flashes of nipple. But if your baby hates the nursing cover, there's hope out there. To help all the stressed, breastfeeding mamas out, I reached out to nursing expert Jada Shapiro and asked for some of her best tips on how to nurse in public when your child refuses to cover up.
Shapiro is a maternal health expert and the founder of Boober, a platform that provides lactation specialists (among other services) to new moms. It's kind of like Uber for your boobs — except instead of a stranger driving you home from a concert, a stranger drives to your house and tells you how to hold your breast like a sandwich.
Before sharing her tips, Shapiro did want to clarify that she would personally never expect a woman to "cover up" when nursing, as she strongly feels babies have just as much right as anyone else to eat their meal without being forced under a giraffe-patterned blanket or into an Applebees bathroom. However, she totally gets that some people aren't so comfortable with nursing in public, and so is happy to offer some helpful hints.
A heads up — these are tips for making you more comfortable with the situation. I'm afraid there aren't any special tricks for getting your baby to enjoy being under a tent of fabric while he eats. Some kids just don't like having a sheet thrown over their heads while they consume a meal. Which, really, is quite understandable.