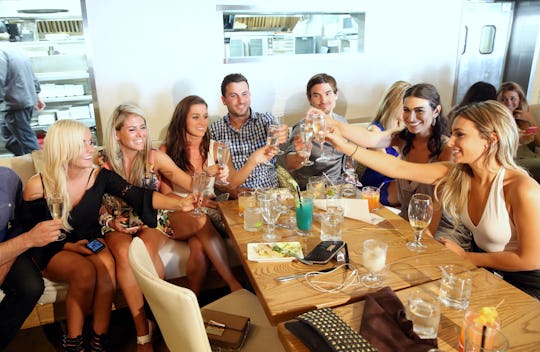 Jesse Grant/Getty Images Entertainment/Getty Images
Report Claims 'BiP' Contestants Must Have Permission To Engage In Sex
Bachelor In Paradise restarted filming at a Mexican resort recently, following an investigation into allegations of sexual misconduct. The show's parent company, Warner Bros., claimed it had found no evidence that two cast members may have engaged in an intimate encounter in which one had reportedly been unable to consent (though the female cast member involved has said she and her lawyer will continue an investigation on their own). But even after all that, fans still might be surprised to find out that, according to a report by TMZ this week, Bachelor In Paradise contestants are now reportedly required to check in with producers before having sex with each other.
Romper has reached out to ABC and Warner Bros. for comment on the report and is awaiting a reply.
UPDATE: In an email to Romper, Nicole Maristoka, a spokesperson for Warner Bros., wrote that the production company had "nothing to confirm at this time."
According to a recent report by TMZ, sources inside the Mexican resort where the show is being filmed alleged that contestants who plan to enter the (wait for it) "Boom Boom Room," which is used for all of the boom boom, apparently, need to get permission first. The sources also claimed that any contestants who enter the aforementioned room of boom boom without permission first should reportedly expect a little sanctioned coitus interruptus. The producers can allegedly walk in mid boom and end things if permission has not been granted or if the producers don't believe both parties gave consent.
This latest development comes on the heels of a report from the Season 4 production; contestant DeMario Jackson was allegedly filmed having sex with fellow contestant Corinne Olympios when she was unable to give consent (both had reportedly been drinking excessively). The show was shut down while Warner Bros. and ABC conducted an internal investigation into the allegations. Last Tuesday Warner Bros. released a statement about the investigation, saying that there had been no evidence of misconduct. While not willing to release the videotape out of respect for both contestants' privacy, spokespersons wrote,
We can say, however, that the tape does not support any charge of misconduct by a cast member. Nor does the tape show, contrary to many press reports, that the safety of any cast member was ever in jeopardy. Production on this season of Bachelor in Paradise will be resuming, and we plan to implement certain changes to the show's policies and procedures to enhance and further ensure the safety and security of all participants.
Now it looks as though it's back to business for the contestants of Bachelor In Paradise... although reportedly with a few awkward provisos. Filming has started back up, which could mean the original air date of Aug. 8 could be fairly conceivable. But what will this new version of Bachelor In Paradise look like?
Checking with producers before having sex isn't even the only alleged new issue to come up for the contestants in the wake of the scandal. The producers have also reportedly imposed a two-drink maximum per hour.
It should be interesting to see what shenanigans the contestants can get up to now that they're expected to stay relatively sober and get permission for sex.
No shenanigans at all, that's my guess.